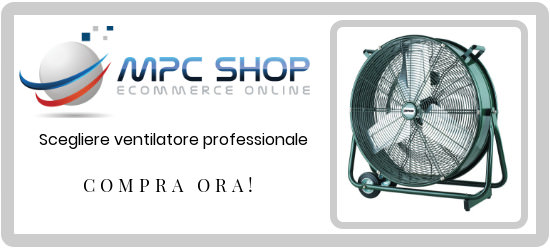 Sometimes it seems difficult to choose a fan powerful enough to handle the air in large environments........... Often we wonder will that be enough?

Will that be enough to move the air in my warehouse?

Will I be able to freshen up the air in my workshop?

And above all ... ... ...

I will spend my money well?

No problem, MPCshop for years has been dealing with ventilation for domestic and industrial use and we have always managed to meet the most diverse demands of our customers, as quality and especially in price!

Our high efficiency fans, in addition to being used for "normal" activities, also perform their job very well in the field of photography, television sets and film.
Some tips are necessary for a correct choice and sizing of the professional fan, here is a brief guide:

HOW TO CHOOSE OUR FANT o choose a fan we need some parameters, the volume of the room and the coefficient of air changes inside it, clearly are parameters that change from time to time, we will indicate the volume with V and the coefficient of air changes with KR.
The formula is as follows: VxKR Let`s take an example, a warehouse 18 m wide, 12 m long and 5 m high, this room will have a volume of 18x12x15 = 1080

Let`s take as reference the table below that shows us the coefficient of air recabio KR depending on the room:

Warehouse 3-6
Workshop 3-6
Galvanizing plants 20-30
Bakeries 20-30
Kitchens of restaurants 10-30
Our fan for the workshop in the example will have to develop 1080x6 = 6480 mc/h or more.
Easy no?