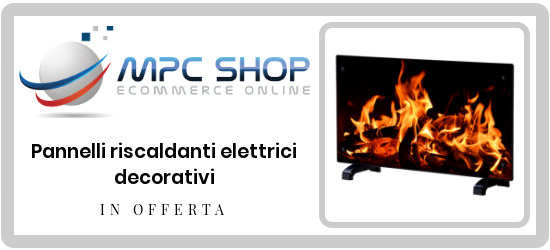 Chemin`arte decorative electric heating panels

Not only are they able to heat any room, but thanks to their modern and original design they are also real furnishing accessories for any type of interior, whether they are panels with photos of spectacular views of the most important European cities or heaters that reflect the features of certain materials such as steel or slate, they are distinguished by the design that is always up to date and in line with current trends and the effectiveness of the heating system.
here are a few examples:

Heating panel EF-ARABESQUE
Termoconvector in tempered glass with an elegant retro motif in arabesque style.

Adjustable thermostat 1000 - 2000 W
Kit wall fixing
Ideal for a room of about 30m ²

Heating panel EF-NEWYORK
Termo convector in tempered glass depicting a beautiful night view of the city of Newyork.

The chosen colours blend perfectly with the urban inspiration of the design.

Adjustable thermostat 1000 - 2000 W
Kit wall fixingSupports for earthing