SINED is pleased to present you the new SOLE series of solar heated showers. Made to Italian design, exclusive, technologically advanced, colourful and super-equipped.

Here are some simple tips on how to use the SOLE model solar-heated shower.

Solar shower parts
Simple and few parts make up this solar heated shower, this ensures long life and limits breakage over the years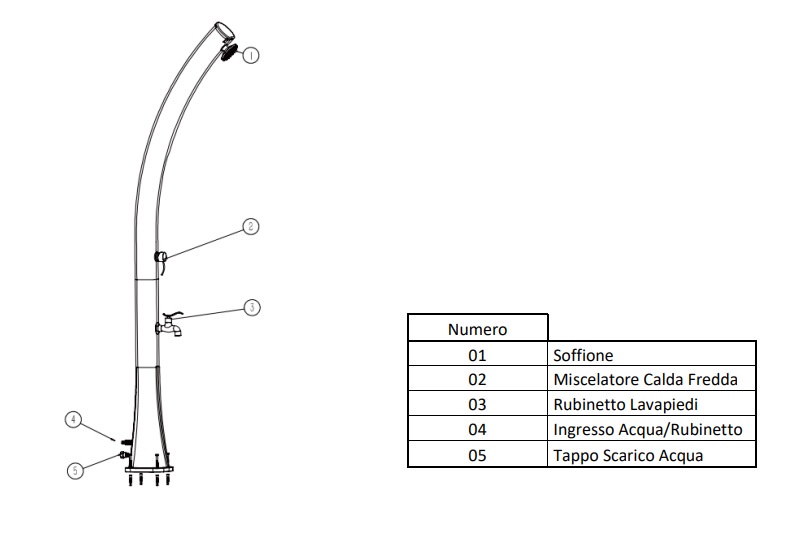 What you will find
Shower parts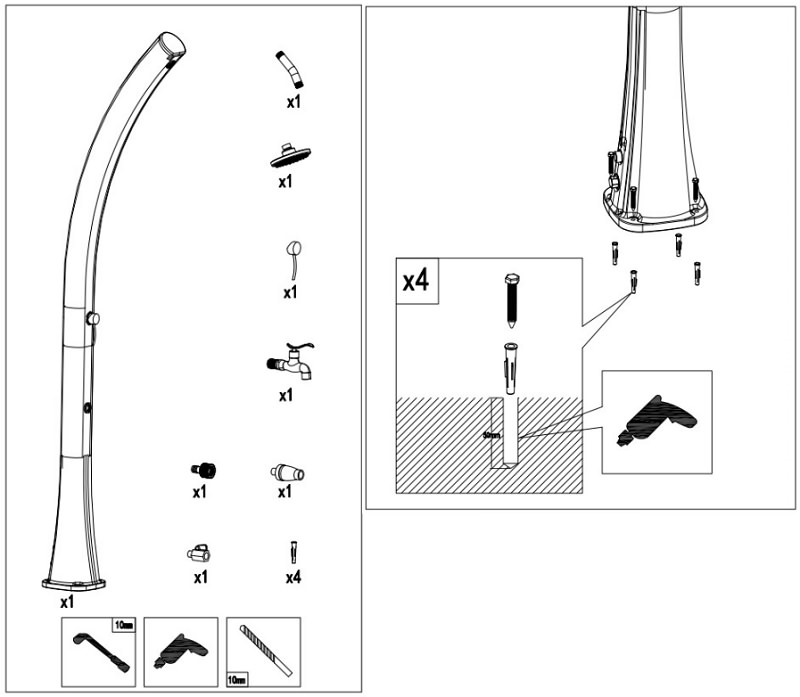 WATER CONNECTIONS

Extreme simplicity in both the installation of the shower head and the connections of the solar shower to the water system. Follow the drawing below.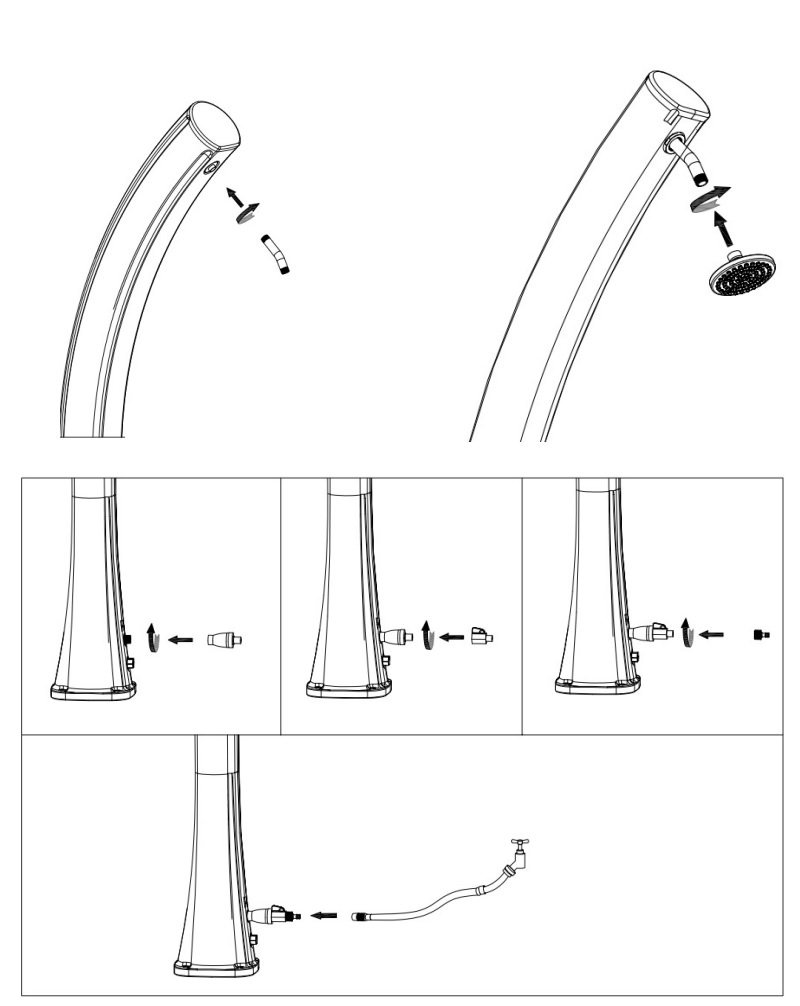 EXCLUSIVE ACCESSORIES
- Footwash faucet
- Round shower head diameter 15 cm 6" in Brass
- Brass accessories
- Inlet filling tap
- Drain plug
- Fixing plugs supplied
- Fixing with special protective Nylon bushings
- Limescale filter
- High-quality mixer cartridge
- Recommended water pressure 3.5 bar
- Internal hoses 12 kg pressure
- Weight 7,7 kg
- Includes protective bag for shower storage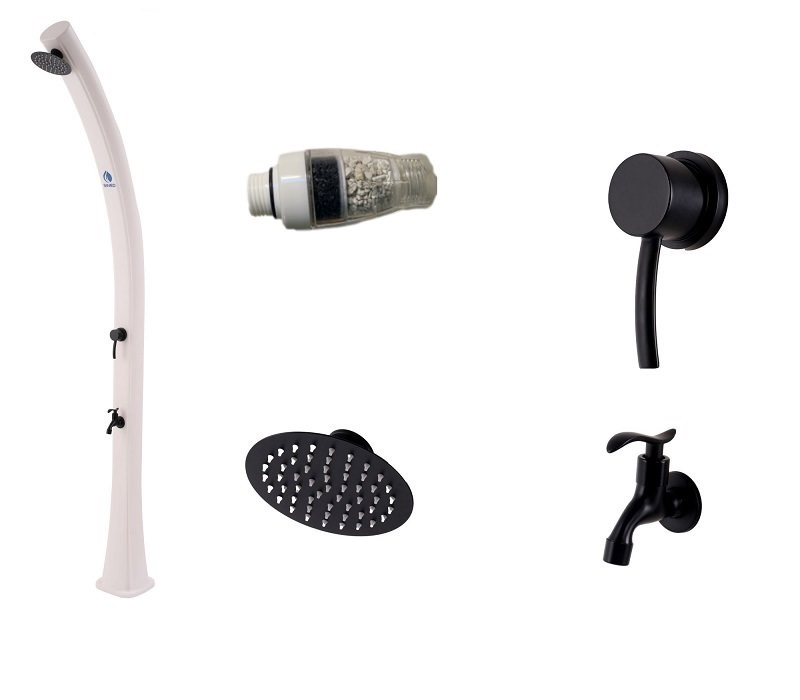 WHERE TO INSTALL THE SOLAR SHOWER?

The choice of colour and the positioning of a solar shower are two fundamental conditions for always having hot water in the warm season or in between.
We start from the assumption that the darker the solar shower, the quicker, and more permanently, it will heat the water inside it. Clearly, a light colour will also suffice at the seaside as we will have very hot sun almost all day.
For the location, on the other hand, we always recommend placing a solar-heated shower as far as possible under the sun`s rays throughout the day.
Below is a graphic summary of what has just been said.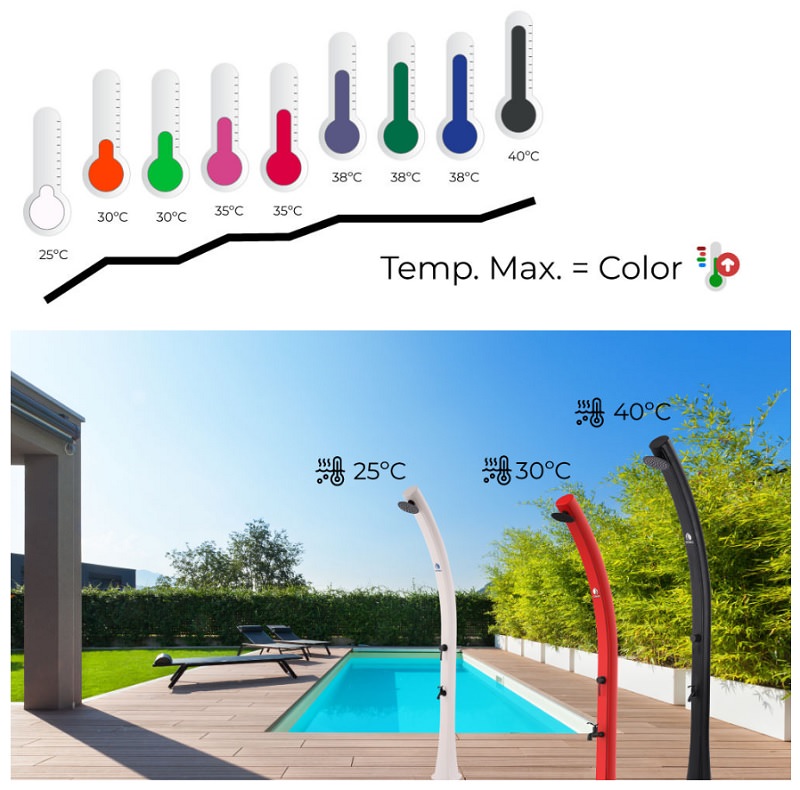 Some tips
Water escaping from the shower head after turning off the shower tap is not a defect but a technical requirement!
A solar shower is not a closed system. If there is a demand for hot water, cold water enters the tank from below through the valve, pushing the hot water already in the upper part of the tank outwards.
The entire shower body is filled with water and serves as solar heating.
The pressure formed as a result of the heating can escape from the shower head.

Dismantling at the end of the season
During the winter period, the shower must be COMPLETELY drained of the water it contains. In addition, during the winter the shower must be dismantled and stored in a dry place.
Failure to observe this warning can lead to frost damage to the product.
Frost damage is not covered by warranty.
1) Close the shower and remove the garden hose.
2) To drain the shower, turn the mixer back to the "WARM" position (approx. 2 minutes) and open the drain plug.
3) Remove the fixing screws on the base and empty the remaining water from the bottom of the shower by tilting the shower (absolutely necessary!).

Cleaning
Use commercially available cleaning agents for cleaning. Do not use detergents containing solvents, abrasive cleaners or hard sponges, brushes, etc.