---
Previous page Next page Pages: 1 2 3 4 5 6
It is not a boast, but only an objective observation, which is confirmed daily by our customers, that on www.mpcshop.it you will find the complete range of Sined showers for indoor and outdoor use. And you will have real time availability, you will always find a competent cosultant to advise you according to your needs with education and professionalism and quality at the best prices. Last but not least, all purchases are guaranteed and payments made with bank transactions are absolutely safe and protected.
Shops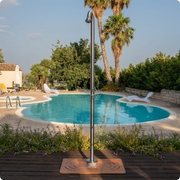 > Indoor and outdoor showers
In this section you will find stainless steel showers, for swimming pools and gardens, solar heated showers and a whole range of accessories to make exclusive the interior or exterior of the rooms. Their construction quality makes them ideal for all destinations and applications, both for domestic and commercial use.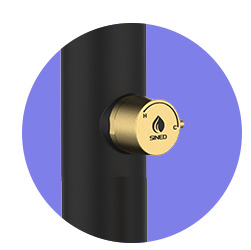 > Spare parts Service Sined
---
What are you looking for? We have all the parts you need here! Underwater lights for swimming pools, clean water pumps, spare parts for Sined showers, intelligent shower heads. All aimed at an optimal service, also as spare parts, of our products for you. SINED spare parts and assistance

---
Macroareas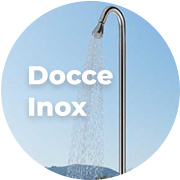 > Stainless Steel Showers
SINED is pleased to present its stainless steel showers. Excellent quality materials, you will also find showers made of stainless steel AISI 316L, the marine one for example. Combined with the quality you will always have an exclusive design that make these showers unique in the online scene. Shape, size, type, without any doubt you will find the article that suits you.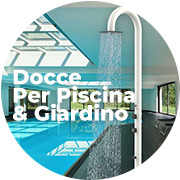 > Pool and Garden Showers
New showers for swimming pool and garden, the new showers luna, white and black hot and cold water are suitable for outdoor or indoor installations. Unique in their kind, just connect them to the water system and heating of the house and that`s it. They mount accessories of great value with separate hot and cold water inlets. They are also ideal as a complement to the furniture.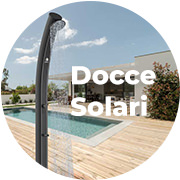 > Showers Solar Heating
Solar heated drops of excellent workmanship with internal tanks up to 40 liters of water. Technologically advanced, finished with everything for quick and easy installation with exclusive accessories. Find the color you prefer and learn more from our catalog.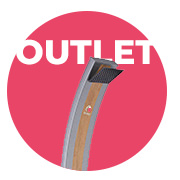 > Showers and Fountains Outlet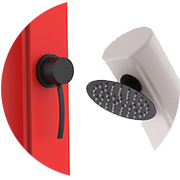 > Sined showers spare parts
All spare parts for our showers, we are very few to be able to offer parts specifically dedicated to the showers in our catalog. All of excellent quality and workmanship, even if a possible breakage of our showers is rare, here you will find the right spare part without problems.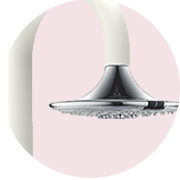 > Intelligent Shower Heads
Smart showerheads, it might seem a stretch, but they are! Extremely innovative, practical, economical, efficient, with them you can have maximum comfort....also visual. Very easy to operate, just a gesture and without consuming electricity!
Categories
> Cartridges Showers Sined
Spare cartridge for Ella, Lea, Manny, Sole series showers. Indispensable in case of breakage to be able to safely mix hot and cold water. Fair price, perhaps the lowest on the web. You can also buy it separately, as security, to a dedicated shower.

> Spare Mixer Cartridges Shower Mixers
> Solar heated showers Large sizes
You no longer have to settle for a single shower in the sun, with our large solar heated showers you can take as many showers as you want during the day. You can choose between different colors, all are finished in every part with exclusive accessories, so as to be true complements of outdoor furniture. The showers are tested individually under pressure immersed in water. After the test they are dried and thoroughly checked again with custom-made protections.
> Stainless Steel Showers with Hand Shower
Refined, elegant, made of 316L stainless steel, marine steel, are suitable for all outdoor or indoor installations. They exploit the system of the house, hot and cold water, to be able to take relaxing showers at any time of day or night. Excellent for swimming pools, gardens, outdoor activities, bathing establishments, BeB and in general all activities
> Stainless Steel Showers with Foot Washing Faucet
Our showers are equipped with a practical foot-washing device that is very useful in many situations, especially in the presence of children. This avoids unnecessary waste of water in case of washing only the feet. They are made of AISI 316L steel, which makes them extremely durable and resistant to atmospheric agents over time.
> Wall mounted stainless steel showers
At the express request of our customers we have included in the catalog an absolute novelty, the series of wall showers for outdoor and indoor. Made of excellent stainless steel Aisi 316L, the famous marine steel. Why the choice of this material? Simple, it resists very much to all weather conditions, salt, dust, UV rays, practically the top, even for marine environments. They can be placed both in the bathroom of the house and in all outdoor activities, even on the boat.

> Stainless Steel Mini Tub and Garden Showers
Decidedly innovative for their maximum comfort, the new free-standing bath pedestals with mobile hand shower are a valid design element, in addition to their undoubted functionality. Intended for many purposes, edge, pool, boat, as simple urban furniture condominium or even in the bathroom at home. Very useful is the refined mobile hand shower that completes the articles. Made of excellent stainless steel Aisi 316L satin finish, they can be considered as real furnishing accessories.
> Stainless steel showers with cold water only
We thought of creating a shower with only cold water, we have been asked by many customers, especially for settings and outdoor use such as swimming pools or sports activities. Made with the highest quality materials for every detail. Every single component has been selected with extreme care. Marketed with a series of useful accessories, not to say indispensable, which are normally paid separately. Sined stainless steel shower for swimming pool with unbeatable quality-price ratio.
> Modern Showers
Modern showers of the latest generation for a classic use, made of sturdy HDPE polyethylene with high resistance to UV rays and atmospheric agents. Totally Italian project and design, excellent for campsites, tourist villages, bathing establishments, hotels, swimming pools, bed and breakfast. They can be mounted in the bathroom of your house or in outdoor spaces and become a garden furniture. In gift protective bag in fabric 190 cloth and the indispensable anti-scale filter.
> Modern Showers with I-Switch Shower Head
Modern showers with I-Switch showerhead for outdoor and indoor use, made of sturdy HDPE pilethylene with high resistance to UV rays and weathering. Possibility of combining showerheads that vary the jet and brightness with just the movement of the hand. Totally Italian project and design, excellent for camping, tourist villages, bathing establishments, hotels, swimming pools, bed and breakfast. They can be mounted in the bathroom of your house or in outdoor spaces and make it a garden furniture. In gift protective bag in fabric 190 cloth and the indispensable anti-scale filter.
> Showers Solar Heating Pools and Garden
Do you have an outdoor garden or pool? Nothing better than installing a solar heated shower. Find out how to decorate your garden or pool and more. You will have the opportunity to take many free showers during the beautiful season without paying anything in electricity. Choose the color, size and capacity that you prefer among the many offers that we propose. Lots of hot water during the day for a cool summer. Excellent for use in public places hotels, campsites, resorts, beach resorts. Also recommended for private use

.
> Sined Aluminum Showers Solar Heating
> Exhibitors Showers Sined
Display SINED showers and fountains with taste in your store, let you see and touch the quality and the typical Italian design. All models have a steel top, adjustable height and surface finished with spray paint. Make SINED showers and drinking fountains visible at their best, you will undoubtedly have a useful return.

> Anti Lime Scale Filters Synthesized Showers
> Sined Shower Mixers
Without an optimal mixer handle, you won't be able to use the shower. In case of breakage you will find here the spare part for SINED showers. Possible spare part essential to use the showers SINED. Prices at the minimum of the market while maintaining an excellent quality of construction.
> Outlet Showers
> Spare Parts Various Showers Sined
> Sined Shower Taps
Essential for mixing water in an optimal way, made of brass or zinc alloy, very high performance and excellent durability, are practically the same as the originals. Maximum reliability and durability. All of them have an excellent online price, the best!

> Shower Protection Bags
> C-BOX Stainless Shower Fixing System
> Sined shower heads
SINED shower heads, different diameters for all needs. Made of ABS or stainless steel depending on the type of shower, with silicon nozzles of the latest generation anti-scale. You will find the most suitable color for your shower, silver or black, of excellent workmanship and construction to ensure maximum durability.

> I Switch Square Shower Heads
New ABS showerheads with 100-to-water power. Without buttons, without battery or current, they work with only the force of water. Activated by infrared sensor with only hand movement. All models have universal threads, which allows installation on any shower column.
> Shower heads I Switch Thermometer
Everything works without power or battery, the showerheads are powered by the energy of the water. This series is equipped with an LCD thermometer that indicates the water temperature. Possibility to change the water jet, with a wave of the hand, in rain, mist and waterfall. Absolute novelty also for your bathroom, they have in fact universal connection from 1/2 inch.

> I Switch Round shower heads