Sometimes our customers ask us "isn`t it difficult to use a solar heated shower?" Nothing could be easier! We always make a premise, regardless of taste or colour inclination, we always recommend a darker colour for maximum performance under the sun.
Clearly if you are at the seaside or in a sunny place all day everything falls. The important thing is to always place the shower in the sun, so that it can revolve around it all day.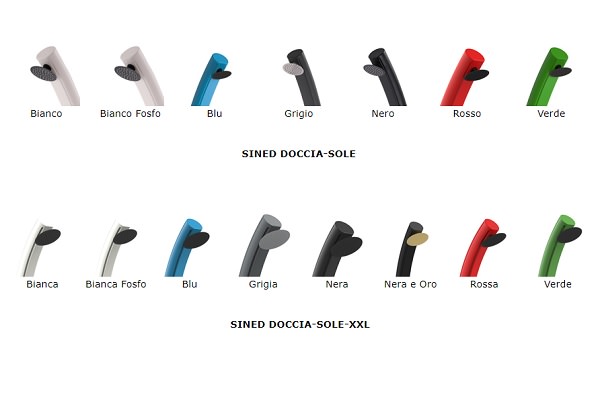 Well, having said that, back to us, nothing could be easier in fact. Just take a look at how our SOLE shower by SINED is composed.

A base on which to attach the shower, shower body, foot basin, mixer and shower head. Once installed, that's easy too,

- Shower body, made of robust, high-strength polyethylene, twice as thick as the competition.
- Foot washer, excellent for avoiding waste, for frequent and short-lasting washing.
- Mixer, excellent quality, easily replaceable even if long lasting. The only caveat is that if the shower has been in the sun for some time, the water inside it is quite hot. Always start from the cold position and then adjust the temperature. It's not that you'll burn yourself, it's just a piece of advice.
- Shower head, it's big, and it comes with anti-limescale nozzles.

Among the many goodies you will get by purchasing one of these showers, besides the undisputed quality, you will also receive:

- High-quality mixer cartridge
- 190 cloth protective bag for storage
I don't think you can get more online! ................. I forgot, connect it with a hose to the water tap!
Don't be scared, and don't take it wrong, I was hot and just seeing water cools me down, the video was just to give you some refreshment.........the following ones will show you how easy it is to use a SOLE model solar heated shower.















I would like to remind you of some not insignificant details, sometimes they look like functional problems but they are not, it is better to know them:
- The jet of the solar shower head is much gentler than the jet of a traditional shower or tap, from the footwash only cold water.
- Use commercially available common detergents for cleaning. Do not use cleaning agents containing solvents, abrasive cleaners or hard sponges, brushes, etc.
- Water leaking from the shower head after turning off the shower tap is not a defect but a technical requirement!
- A solar shower is not a closed system. If there is a demand for hot water, cold water enters the tank from below through the valve, pushing the hot water already in the upper part of the tank outwards.
- The entire shower body is filled with water and serves as solar heating.
- The pressure formed as a result of the heating can escape from the shower head.



All basic model solar-heated showers come complete with
- Water tank 22 litres
- Height 226 cm
- Base diameter 20x21 cm
- Footwash tap
- Round shower head diameter 15 cm 6" in Brass
- Brass accessories
- Inlet filling tap
- Cap for emptying
- Fixing plugs supplied
- Fixing with special protective Nylon bushings
- Limescale filter
- High-quality mixer cartridge
- Recommended water pressure 3.5 bar
- Internal hoses 12 kg pressure
- Weight 7,7 kg
- Includes protective bag for storing the shower

All XXL model solar heated showers are complete with
- Super strong and reinforced
- Ideal for gardens swimming pools beaches
- Water tank 40 litres
- Height 266,6 cm
- Footwash tap
- 20 cm diameter 8" round swivel Brass shower head
- Brass accessories
- Inlet filling tap
- Drain plug
- Fixing plugs supplied
- Fixing with special protective Nylon bushings
- Limescale filter
- High-quality mixer cartridge
- Recommended water pressure 3.5 bar
- Internal silicone hoses 12 Kgs pressure
- Weight 13.5 kg
- 190 cloth protective bag for storage