What could be more practical than being able to change the water jet with a simple hand movement? Nothing! SINED offers its customers the LUNA series of classic indoor and outdoor showers. Equipped with accessories of absolute quality, the list of these features make this series of absolute importance and quality.
Totally Italian project and design with control of the production process, including testing and packaging.

Below is an explanatory film that highlights the ease of use of the shower. The film is indicative, the shower head varies according to the shower model; LCD, LED-QUADRO and SENSOR.

Everything is powered by water through the Hydro Generator located inside the shower head.

Lightweight and easy to install, they require minimal maintenance and, unlike solar heated showers, you don`t have to place them in the sun.
Simply connect them to your home`s hot and cold water supply and you`re done!


Outstanding key features:
- High-quality accessories.
- Easy to clean and maintain.
- Separate hot and cold water inlets.
- Possibility of side and bottom water inlets.
- Highly resistant to atmospheric agents.
- Highly resistant to UV rays.
- Can be mounted in the bathroom of your house or in outdoor spaces as garden furniture.
- For indoor and outdoor use
- Ideal for gardens, swimming pools, spas and wellness centres.
- Height 223.5 cm
- Base diameter 17.5 cm
- Dual inlet pipes: Hot and cold water
- Footwash tap or mobile hand shower
- Double hot and cold water diverter in both the shower head and the footwash unit
- Special Large Shower Heads Stainless Steel
- Shower heads with anti-limescale silicone nozzles
- Brass accessories
- Inlet filling tap
- Drain plug
- Fixing plugs supplied
- Fixing with special protective nylon bushings
- 2 Limescale filters (one for each inlet)
- High quality mixing cartridge
- Recommended water pressure 3.5 bar
- Internal braid hoses with 15 Kgs of pressure
- Protective bag, made of 190 cloth, for storing the product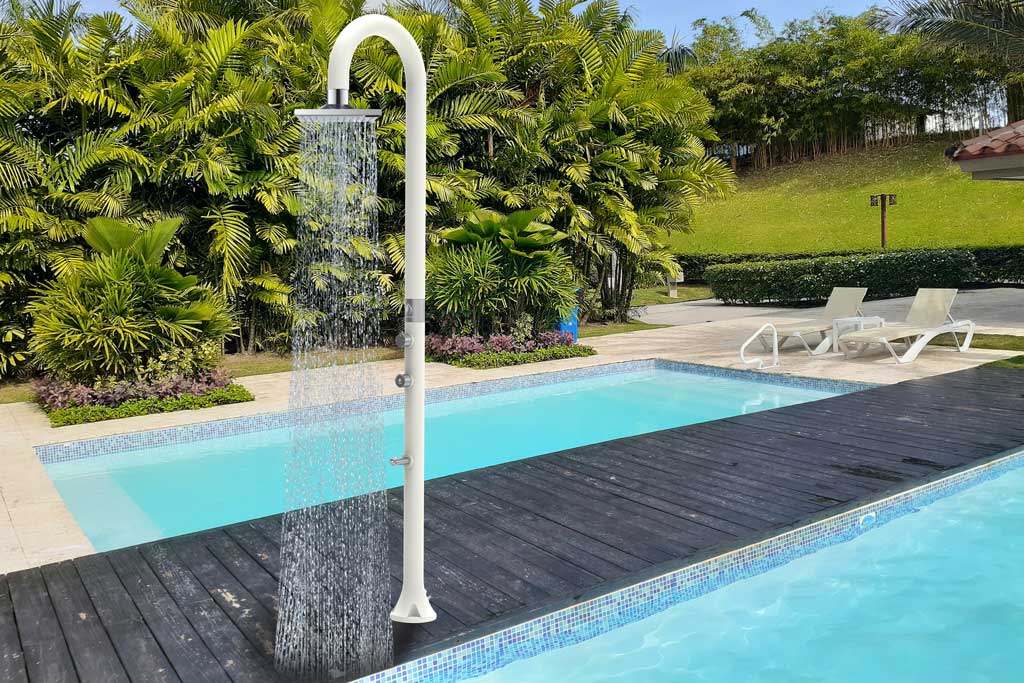 DOCCIA-LUNA-BIANCA-LCD White shower with LED shower head

White polyethylene shower with hot and cold water with square I-SWITCH shower head with LCD thermometer. Double water connection, bottom and lateral. It can be positioned outside or inside the house. Super equipped H 223,5 cm
Product dimensions cm: 17,5x17,5x223,5 Package dimensions cm: 19x49x120 Weight Kg: 8,5 Gross weight Kg: 16
White with Thermometer
DOCCIA-LUNA-BIANCA-LED-QUADRO White shower with LED shower head

White polyethylene shower with hot and cold water with square I-SWITCH with LIGHT type 4 LCD. Double water connection, bottom and lateral. It can be positioned outside or inside the house. Super equipped H 223,5 cm
Product dimensions cm: 17,5x17,5x223,5 Package dimensions cm: 19x49x120 Weight Kg: 8,5 Gross weight Kg: 16
White with Light type 4 lcd



€ 748,99 Vat included






DOCCIA-LUNA-BIANCA-SENSOR Shower with 3jet LED showerhead

White polyethylene shower with hot and cold water with round I-SWITCH shower head. Double water connection,bottom or at the side. It can beplaced outside or inside the house. Change the water jet with the movement oh a hand.
Product dimensions cm: 17,5x17,5x223,5 Package dimensions cm: 19x49x120 Weight Kg: 8,5 Gross weight Kg: 16
White Shower Head with Sensor



€ 769 Vat included






DOCCIA-LUNA-NERA-LCD Black shower with LCD shower head

Black Polyethylene shower with hot and cold water with square I-SWITCH shower head with LCD thermometer. Double water connection,bottom and side. It can be placed outside or inside the house. Super equipped.
Product dimensions cm: 17,5x17,5x223,5 Package dimensions cm: 19x49x120 Weight Kg: 8,5 Gross weight Kg: 16
LUNA BLACK LCD
DOCCIA-LUNA-NERA-LED-QUADRO Black shower with LED shower head

Black Polyethylene shower with hot and cold water with square I-SWITCH LED shower head .Double water connection, bottom and side. It can be positioned outside or inside the house. Super equipped. H 223,5 cm
Product dimensions cm: 17,5x17,5x223,5 Package dimensions cm: 19x49x120 Weight Kg: 8,5 Gross weight Kg: 16
Black with Led Light



€ 748,99 Vat included






DOCCIA-LUNA-NERA-SENSOR Black shower head 3 jets led

Black Polyethylene shower with hot and cold water with round I-SWITCH shower head. Double water connection,bottom and lateral. It can be placed outside or inside the house. Change the water jet with just the movement of a hand.
Product dimensions cm: 17,5x17,5x223,5 Package dimensions cm: 19x49x120 Weight Kg: 8,5 Gross weight Kg: 16
Black shower with overhead shower with sensor



€ 769 Vat included