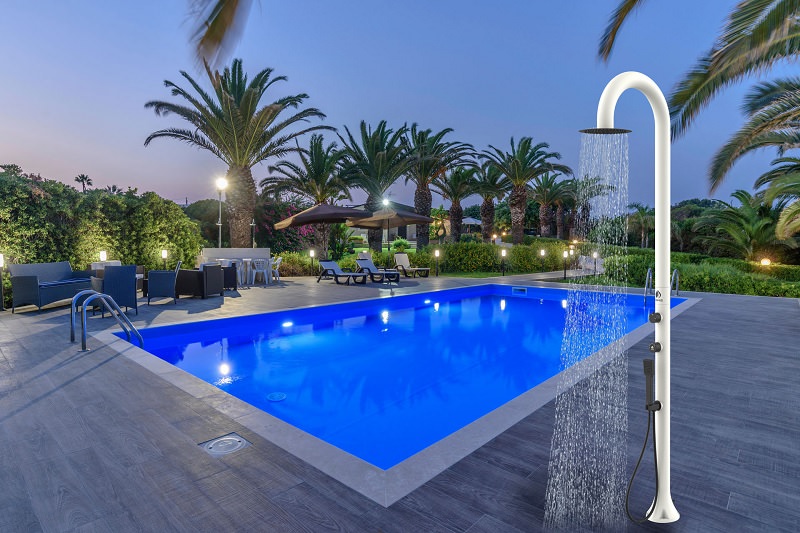 THE NEW WEBSITE IS ONLINE!

Proud of our thirty years of success in the field of outdoor stainless steel showers, SINED presents its new website
POOL-SHOWERS
. The result of years of experience, technological development and interaction with its customers.
interaction with its customers. The new site is the natural evolution of a thought optimized to give the best in our field. It is certain that the feedback we have received from our consumers has allowed us to grow and to propose more and more
more and more performing articles.
For SINED, selling has become real fun, yes, fun. Given our results and the response from customers over the years. In fact, with each passing year, SINED becomes stronger and more respected in the field of
sales of outdoor showers, solar heated showers, chaise lounges and garden accessories. This has also allowed us to grow in sales service, serious and professional, and create synergies and opportunities for new partnerships.
Without a doubt, we have left our mark on the Web!
An important factor is quality, design and the construction process, three elements that have enabled us to make a significant impact on the market.
Italian Style
We are all proud of the Italian style that since the 60`s has built over time an image of taste and refinement that now distinguishes us from the general "boredom".
Sined presents the new line of outdoor and indoor showers. High quality, care for design, attention to the smallest detail and uniqueness, which characterize all the Italian excellences so appreciated in the world.
Even though industrially manufactured, everything comes from an Italian studio and is made under strict supply chain directives such as the control of the various samples tested in Italy, up to the complete product and its certification.
The internal design was followed by a staff of Italian specialists, who analysed every single component, considering possible problems and studying solutions to prevent them. Everything to define high-end products!
Everything is made from the highest quality materials. Every single component has been selected with extreme care. The products are marketed with a series of useful, not to say indispensable, accessories that are normally paid for separately.
The physical production was then entrusted to an Asian factory with a great deal of know-how, and internationally recognised for its extremely precise quality control. The production facilities and state-of-the-art machinery used are so expensive that only such large economies of scale can sustain them.
You won`t find the same technical features and accessories on the market that SINED offers its customers.
Take your time and get ready for pleasant and relaxing moments with one of our showers or chaise longues. But above all, follow us and find out more about our products.



ITEMS

SHOWERS
- STAINLESS STEEL SHOWERS
- SHOWERS FOR SWIMMING POOL AND GARDEN
- SOLAR HEATED SHOWERS

STAINLESS STEEL SHOWERS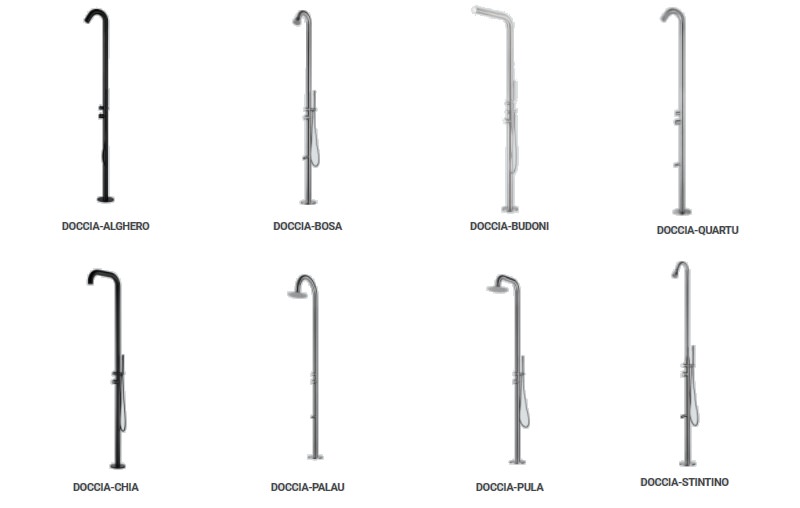 All showers in this series are equipped with:
- Double 3-way mixer, allows for hot water from the shower head and hand shower.
- Hand shower
- Concealed water connections on the base.
- Aisi 304 stainless steel tapware.
- Water connection from below with quick couplings.
- Floor fixing ensured by the exclusive C_BOX system.

The steel used is high quality Aisi Inox 316L, also known as marine steel, which is better than AISI 316. It differs from AISI 316 stainless steel in that it contains less carbon, the L stands for "low carbon". This makes the steels in this series particularly resistant to corrosion (especially pitting) even in particularly reducing, highly saline environments, guaranteeing excellent resistance to corrosion.
Unlike solar-heated outdoor showers, you don`t have to worry about placing this shower in direct sunlight. The only limitation is your choice.



GARDEN AND SWIMMING POOL SHOWERS and more, hotels, campsites, etc.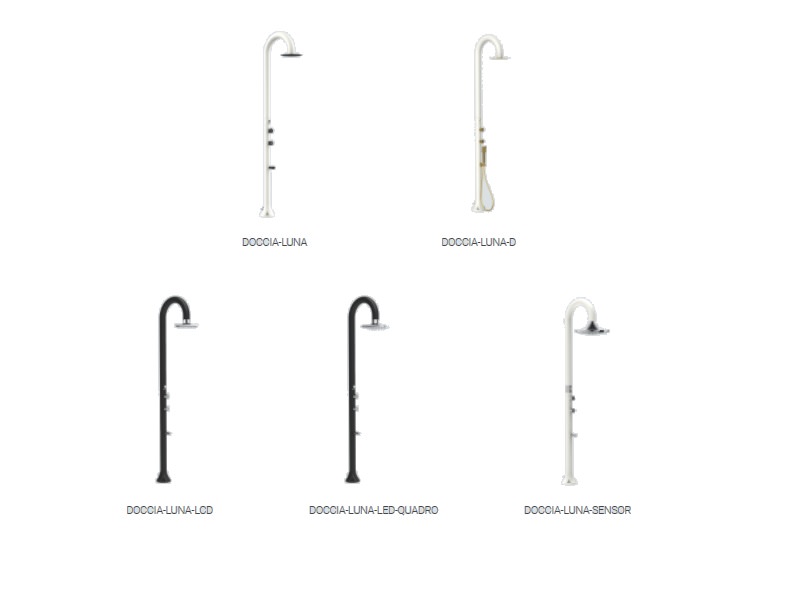 Here you will find the best, we have a model in the catalogue, the SHOWER-MOON-BLUE-LIGHT that even lights up at night! Impossible? No, it is made with an additive that is mixed directly into the structure of the shower when it is made. This allows it to store light during the day and replace it during darkness. It is not a simple paint that is applied to the surface of the shower.
You will have a spectacular effect if you install such a shower outdoors, for example in the garden or by the pool. Great for home and outdoor activities.

Another example is the possibility to combine special shower heads that will make your shower unique, an example of a dedicated shower head that is not powered by electricity at all but by water energy only. See below


SOLAR HEATED SHOWERS
save money and furnish, for commercial or private use, the important thing is to place them under the sun, you do not have to do anything else.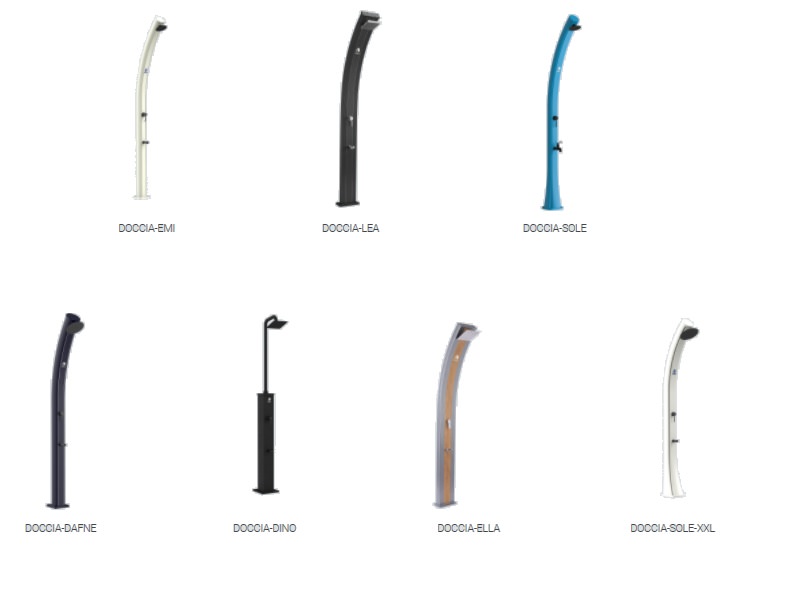 Complete range for all needs from 22 to 40 litres capacity, supplied, free of charge, with some accessories that would be paid for in most cases, such as high quality mixer cartridges, anti-scale filter and protective case. We challenge you to find more accessories!
All showers in the series are environmentally friendly, economical, easy to install and virtually maintenance-free. All showers are individually pressure tested by immersion in a tub of water, after the test it is dried, rechecked and carefully packed with custom-made protections.
CHAISE LONGUE
- CHAISE LONGUE
- POLYETHYLENE CHAISE LONGUE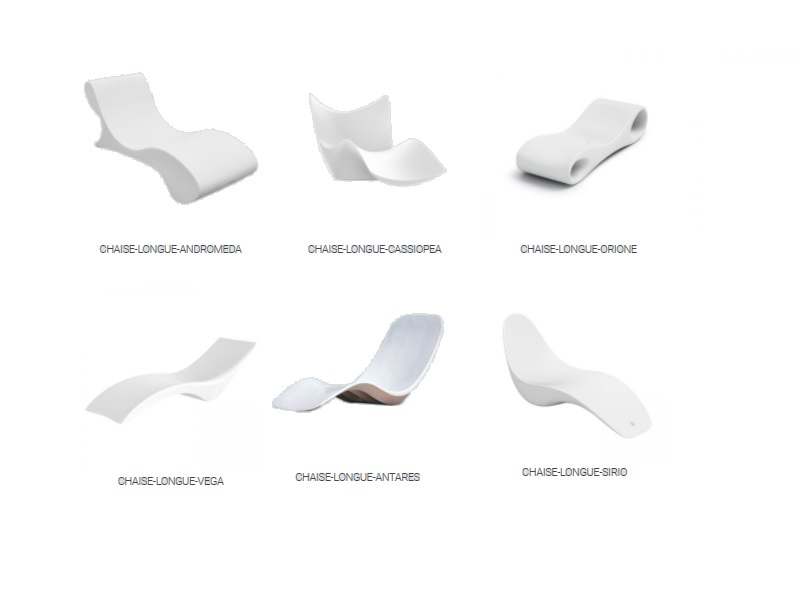 What could be better than a rest from stress or during holidays? A chaise longue! In polyethylene or resin, the important thing is that you relax!
All anatomical, dedicated exclusively to relaxation, they are ideal for home, bars, night clubs, discos, pubs, beauty salons, spas and in general for all indoor and outdoor environments and are suitable for intensive use. They are all highly UV resistant and recyclable. Not an insignificant detail in today`s society.
You can find them at the lowest price or with a discount at the time of ordering.
FOUNTAINS AND GARDEN ACCESSORIES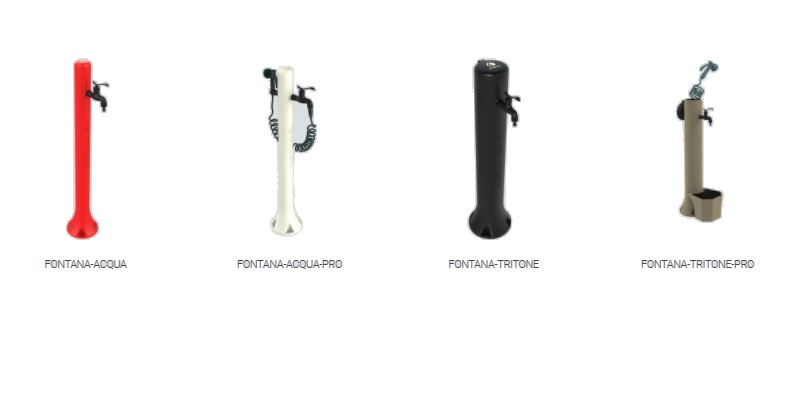 It may seem strange but the field of fountains for the garden, swimming pool and in general for outdoor use has grown considerably in recent years, so much so that we are able to offer our customers a series of exclusive articles that cannot be compared to similar articles on the Web.
Exclusive colours and unique accessories make it a highly technological product with an enviable design.
The TOP is represented by the Tritone PRO series, exclusive in everything!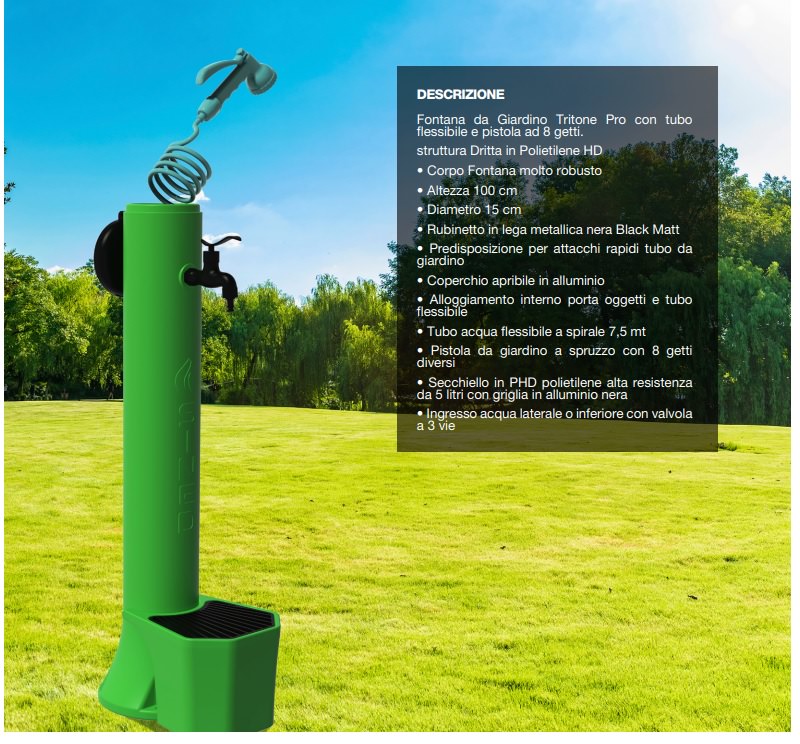 Doubts? Questions? No problem, feel free to contact us, you will always find an answer or a special quotation.
---

Related items

---



DETAIL
DOCCIA-ALGHERO-INOX Stainless steel shower with hand shower Available 15 Pz

Outdoor shower Sined Alghero in satin stainless steel Shower with mixer and hand shower 6 cm diameter Body shower and accessories in stainless steel AISI 316L Shower with hot and cold water inlet Concealed connections on the base

• brushed stainless steel shower with hand shower
• stainless steel shower for outdoor use
• hot and cold water shower for outdoor use
• shower with double mixer
• outdoor shower with hand shower




€ 1366
Vat included





---



DETAIL
DOCCIA-ALGHERO-NERA Shower Satin steel Black outdoor Available 10 Pz

Garden shower Black Sined Alghero in steel Black Matt Shower with mixer and hand shower Shower body and accessories in stainless steel AISI 316L Shower for indoor and outdoor use Hot and cold water inlet from below Drum diameter 60mm H 2289 mm

• black satin steel outdoor shower
• steel garden shower
• steel swimming pool shower
• commercial steel shower
• black stainless steel outdoor shower




€ 1669
Vat included





---



DETAIL
DOCCIA-BOSA-INOX Outdoor hot and cold water shower Available 22 Pz

Shower for swimming pool Sined Bosa in Satin Stainless Steel Aisi Inox 316L Shower with hot and cold water inlet Shower head diameter 60 mm 3 ways mixer for shower head Hand shower and foot wash basin Concealed connections on the base Fittings in Stainles

• outdoor shower hot and cold water
• outdoor shower
• hot and cold water shower
• outdoor shower with mixer
• outdoor shower with hand shower




€ 1479,01
Vat included





---



DETAIL
DOCCIA-BOSA-NERA High quality black outdoor shower Available 16 Pz

Sined Bosa indoor and outdoor shower in Black Aisi 316L stainless steel and Aisi 316L stainless steel taps 60 mm diameter shaft with shower head and diverter for hand shower and foot shower Shower with hot and cold water inlet on base H 2289 mm

• outdoor shower black high quality
• outdoor shower black
• hot and cold water shower
• shower with double mixer
• outdoor shower with hand shower




€ 1783,01
Vat included





---



DETAIL
DOCCIA-BUDONI-INOX High quality stainless steel outdoor sho Available 15 Pz

Sined Budoni outdoor shower in satin stainless steel Garden shower with hot and cold water inlet Mixer and hand shower Body and accessories in stainless steel AISI 316L with shaft diameter 6 cm. Concealed connections in the base.

• high quality stainless steel outdoor shower
• stainless steel outdoor shower
• stainless steel outdoor shower
• stainless steel shower
• garden shower




€ 1517
Vat included





---



DETAIL
DOCCIA-BUDONI-NERA High quality stainless steel black outdo Available 13 Pz

Garden shower Sined Budoni Nera Shower with mixer and handshower Body and accessories in stainless steel AISI 316L Black Matt Drum diameter 6 cm Shower for indoor and outdoor with hot and cold water inlet from the bottom. H 2210 mm

• high quality stainless steel black outdoor shower
• black outdoor shower
• stainless steel black outdoor shower
• high quality outdoor shower
• outdoor shower with discount




€ 1897
Vat included





---



DETAIL
DOCCIA-CHIA-INOX Steel Garden Shower with Hand Shower Available 6 Pz

Outdoor shower Chia Sined in satin stainless steel Shower with mixer and hand shower Structure and accessories in stainless steel AISI 316L Drum diameter 6 cm Shower with hot and cold water inlet Concealed connections in the base H 2300 mm

• stainless steel garden shower with hand shower
• stainless steel garden shower
• stainless steel garden shower with hand shower
• stainless steel garden shower with hand shower
• stainless steel garden shower




€ 1404
Vat included





---



DETAIL
DOCCIA-CHIA-NERA Black Stainless Steel Outdoor Shower Available 10 Pz

Sined shower for swimming pool Chia Nera Shower with mixer and handshower Body and accessories in stainless steel AISI 316L matt black Body diameter 6 cm Shower for indoor and outdoor use with hot and cold water inlet from below H 2300 mm

• black stainless steel outdoor shower
• black stainless steel shower
• black steel outdoor shower
• black outdoor shower
• black shower with hand shower




€ 1783,01
Vat included





---



DETAIL
DOCCIA-DAFNE-BIANCA White aluminium solar shower Available 7 Pz

DAFNE ecological solar white shower with 20 cm round shower head, mixer and foot wash tap Shower with curved aluminium structure for outdoor use. 35 litre tank, 226 cm high. Suitable for swimming pool, garden, BeB, hotels, campings.

• white aluminum solar shower
• white aluminum shower
• white shower for outdoor use
• aluminum shower
• white shower for garden




€ 869,01
Vat included





---



DETAIL
DOCCIA-DAFNE-BLU Blue solar powered aluminium shower Available 18 Pz

DAFNE BLUE ecological solar shower with 20 cm round shower head, mixer and foot wash tap Shower with curved aluminium structure for outdoor use. 35 litre tank, 220 cm high. Suitable for swimming pool, garden, BeB, hotels, campings.

• blue aluminium solar shower
• blue aluminium shower
• blue shower for outdoor use
• aluminium shower
• blue garden shower




€ 869,01
Vat included





---



DETAIL
DOCCIA-DAFNE-NERA Black aluminium solar shower Available 16 Pz

DAFNE Black ecological solar shower with 20 cm round shower head, mixer and foot shower tap. Shower with curved aluminium structure for outdoor use, 35 litre tank, 226 cm high. Suitable for swimming pool, garden, BeB, hotels, campings.

• black aluminum solar shower
• black aluminum shower
• black outdoor shower
• aluminum shower
• black garden shower




€ 869,01
Vat included





---



DETAIL
DOCCIA-DINO-NERA Black solar shower with great price Available 4 Pz

DINO Solar Shower Black Outdoor hot shower heated by the sun in aluminium Tank 26 Liters Square shower head 22 cm in ABS and Mixer, foot wash. Height 225 cm Max working pressure 3 Bar

• solar shower black with excellent price
• solar heating shower for the garden
• solar shower for swimming pool
• solar shower with tank
• curved solar shower




€ 699
Vat included





---



DETAIL
DOCCIA-ELLA-GRIGIA-WOOD Grey aluminium solar shower Available 13 Pz

Elegant solar shower in Aluminium Ella grey colour with central strip wood colour Garden and outdoor swimming pool shower with mixer Square shower head and foot wash tap Aluminium structure 40 Litres tank Height 224 cm.

• grey aluminium solar shower
• grey solar heated shower
• grey shower for outdoor use
• elegant grey solar shower
• solar shower 40 litres




€ 1190
Vat included





---



DETAIL
DOCCIA-ELLA-NERA-INOX Black aluminium solar shower Available 12 Pz

Shower solar heating Black Aluminum model Ella with central Inox band. Ecological shower for outdoor use with a large tank of 40 liters, 224 cm high, equipped with mixer, large square shower head and useful foot wash tap.

• black aluminum solar shower
• black solar heating shower
• black solar shower for outdoor use
• black shower for swimming pool
• solar shower 40 liters




€ 1190
Vat included





---



DETAIL
DOCCIA-EMI-BIANCA White aluminium solar shower Available 17 Pz

Ecological solar shower Emi Bianca with 15 cm round shower head, mixer and foot-washing tap Shower with curved aluminium structure for outdoor use, 25 litre tank, height 226 cm. Suitable for swimming pool, garden, BeB, hotels, campings.

• white aluminum solar shower
• white aluminum shower
• white shower for outdoor use
• aluminum shower
• white shower for garden




€ 769
Vat included





---



DETAIL
DOCCIA-EMI-BLU Blue aluminium solar shower Available 4 Pz

Solar ecological shower Emi Blue with 15 cm round shower head, mixer and foot wash tap Shower with curved aluminium structure for outdoor use, 25 litres tank, height 226 cm. Suitable for poolside, garden, B and B, hotels, campsites.

• blue aluminium solar shower
• blue aluminium shower
• blue outdoor shower
• blue aluminium solar shower
• blue garden shower




€ 769
Vat included





---



DETAIL
DOCCIA-EMI-NERA Black aluminium solar shower Available 4 Pz

Solar Shower for Garden and Pool Emi Nera Shower with Aluminium body. Round shower head 15 cm Mixer and foot wash tap Tank 25 Liters Height 226 cm. Great for poolside, garden, B and B, hotels, campsites. Outdoor activities.

• solar shower aluminum black
• solar shower swimming pool design
• solar shower garden design
• solar shower swimming pool foreign
• solar shower 25 liters




€ 769
Vat included





---



DETAIL
DOCCIA-JERRY-NERA-INOX PVC solar shower 35 litres Available 75 Pz

Jerry Solar heated garden shower with hexagonal structure in black PVC and metal accessories 35 litre tank Round shower head Mixer and foot wash tap Measurements 17,5x18x218,8 cm

• pvc solar shower 35 liters
• pvc solar shower
• solar shower heating pvc
• solar shower 35 liters
• solar shower for outdoor 35 liters




€ 198,99

€ 159,2
Vat included





---



DETAIL
DOCCIA-LEA-GRIGIA Solar shower for outdoor swimming pool Available 16 Pz

Shower for outdoor use with solar heating Lea Grey Shower with curved aluminum structure and large tank of 30 liters Shower 225,4 cm high with large square shower head Mixer and foot washing tap

• solar shower for outdoor swimming pool
• aluminium solar shower
• grey solar shower
• grey solar heated shower
• grey shower for outdoor use




€ 969
Vat included





---



DETAIL
DOCCIA-LEA-NERA Black shower for outdoor swimming pool Available 14 Pz

Shower for outdoor use with solar heating Sined Lea black color Shower with curved aluminum structure and large tank of 30 liters Shower 225,4 cm high with large square shower head Mixer and foot wash faucet

• black shower for outdoor swimming pool
• aluminium solar shower
• black solar shower
• black solar heated shower
• black shower for outdoor use




€ 969
Vat included





---



DETAIL
DOCCIA-PALAU-INOX Quality shower for swimming pool Available 16 Pz

Palau Sined shower for indoor and outdoor use with Shower head diameter 25 cm Structure and Accessories in Stainless Steel AISI 316L, marine steel. Shower shaft diameter 6 cm with hot and cold water supply, equipped with mixer and foot-washing system.

• high quality shower for swimming pool
• high quality shower for outdoor use
• stainless steel shower for swimming pool
• stainless steel shower for outdoor use
• stainless steel shower aisi 316l




€ 1404
Vat included





---



DETAIL
DOCCIA-PALAU-NERA Steel Shower Black with Shower Head Available 10 Pz

Shower Sined Palau Nera with Shower head diameter 25cm Shower for indoor and outdoor with Mixer tap and Foot wash Body and accessories in Stainless Steel AISI 316L, Marine Steel. Shower with hot and cold water supply Connections in the base

• high quality black swimming pool shower
• high quality black swimming pool shower
• high quality black swimming pool shower
• high quality black outdoor shower
• black outdoor shower




€ 1745
Vat included





---



DETAIL
DOCCIA-PULA-INOX High quality garden shower Available 13 Pz

Outdoor shower Pula Sined Shower for swimming pool and garden. Shower head diameter 25cm Structure and accessories in marine stainless steel AISI 316L Drum diameter 6 cm in Shower with hot and cold water supply Hand shower and mixer H 230 cm

• high quality garden shower
• stainless steel garden shower
• indoor and outdoor shower
• bathing establishment shower
• shower for b




€ 1404
Vat included





---



DETAIL
DOCCIA-PULA-NERA High quality black garden shower Available 10 Pz

Shower for swimming pool Pula Nera with shower head diameter 25 cm Garden shower with mixer and hand shower Body and accessories in marine stainless steel AISI 316L. Shower with hot and cold water supply Concealed connections in the base

• high quality black garden shower
• garden shower
• swimming pool shower
• bathroom shower
• home shower




€ 1783,01
Vat included





---



DETAIL
DOCCIA-QUARTU-INOX Outdoor Solar Shower Stainless Steel 316 Available 19 Pz

Shower for outdoor use Sined Quartu in stainless steel Aisi 316L Shower with hot and cold water inlet Shower head diameter 60 mm H 2289 mm. with Diverter shower head and foot wash in stainless steel Aisi 316L Concealed connections on the base with C-Box s

• high quality outdoor garden shower
• high quality outdoor shower
• high quality outdoor shower
• hot cold outdoor shower
• camping shower




€ 1326,99
Vat included





---



DETAIL
DOCCIA-QUARTU-NERA Classic black outdoor shower Sined Available 10 Pz

Outdoor shower Sined Quartu in stainless steel Aisi Inox 316L Matt Black Shower with hot and cold water inlet Shower head diameter 60 mm with Diverter shower head and foot wash in stainless steel Aisi 316L Hot and cold water connections on the base

• sined black classic outdoor shower
• black outdoor shower
• black shower column
• black classic shower
• stainless steel shower column




€ 1631,01
Vat included





---



DETAIL
DOCCIA-SASSARI-INOX Classic garden shower Sined Available 4 Pz

Outdoor shower Sassari in satin stainless steel Garden shower Sined with hot and cold water inlet Mixer and hand shower Body and accessories in marine stainless steel AISI 316L with shaft diameter 6 cm Concealed water connections.

• classic garden shower
• classic stainless steel shower
• classic shower
• garden shower
• outdoor shower with hand shower




€ 1442
Vat included





---



DETAIL
DOCCIA-SIMIUS-INOX Stainless steel pool shower SINED Available 30 Pz

Shower in satin stainless steel Sined Simius Shower for garden and swimming pool with cold water only Structure and accessories in marine stainless steel AISI 316L with shower head diameter 20 cm Drum diameter 38 mm Height 2300 mm.

• stainless steel sined pool shower
• cold water shower
• high quality stainless steel shower
• traditional outdoor shower
• stainless steel outdoor shower




€ 986
Vat included





---



DETAIL
DOCCIASOLARE-RIO-BIANCO-BLACKMATT White shower hot water from the sun Available 93 Pz

White shower with solar heating model Rio. Curved structure in HD Polyethylene, ideal for garden, swimming pool and outdoor activities. Height 226 cm Round shower head diameter 15 cm Tank 22 Liters with Foot Washing Accessories and Taps in brass.

• white shower hot water from sun
• white shower hot water with sun
• white shower heated by sun
• white shower solar
• white shower solar heating




€ 248,99
Vat included





---



DETAIL
DOCCIASOLARE-RIO-GRIGIO Gray hot water shower with sunshine Available 0 Pz

Gray shower with solar heating model Rio. Curved structure in HD Polyethylene, ideal for garden, swimming pool and outdoor activities. Height 226 cm Round shower head diameter 15 cm Tank 22 Liters with Foot Washing Accessories and Taps in brass.

• grey shower hot water from sun
• grey shower hot water with sun
• grey shower heated by sun
• grey shower solar
• grey shower solar heating




€ 248,99
Vat included





---



DETAIL
DOCCIASOLARE-RIO-NERO-BLACKMATT Solar shower black hot water from sun Available 69 Pz

Black shower with solar heating model Rio. Curved structure in HD Polyethylene, ideal for garden, swimming pool and outdoor activities. Height 226 cm Round shower head diameter 15 cm Tank 22 Liters with Foot Washing Accessories and Taps in brass.

• black shower hot water from sun
• black shower hot water with sun
• black shower heated by sun
• black shower solar
• black shower solar heating




€ 248,99
Vat included





---



DETAIL
DOCCIA-SOLE-BIANCA White shower for garden Sined Sole Available 93 Pz

White solar shower with curved structure in HD Polyethylene, model SOLE. For Garden and Pool Height 226 cm Round shower head diameter 15 cm Tank 22 Liters with footwash Accessories in black metal. Anti-limescale filter and shower cover

• white garden shower
• solar shower with tank
• outdoor shower 22 liters
• white shower for outdoor
• outdoor shower




€ 399
Vat included





---



DETAIL
DOCCIA-SOLE-BLU Blue shower for swimming pool Available 47 Pz

Blue solar heated shower for swimming pool with curved structure in HD polyethylene. Height 226 cm Round shower head diameter 15 cm Tank 22 Litres Foot wash tap Accessories in Black metal. Anti-scale filter and cover for the shower.

• blue shower for swimming pool
• solar heated blue shower
• blue shower for outdoor swimming pool
• blue shower for outdoor use
• poolside shower




€ 399
Vat included





---



DETAIL
DOCCIA-SOLE-GRIGIA Poolside shower Available 0 Pz

Solar shower for swimming pool. Curved structure in HD Polyethylene for outdoor use Colour Grey Metal accessories Height 226 cm Round shower head diameter 15 cm Tank 22 Litres Foot wash tap. Anti-scale filter and cover for the shower.

• poolside shower
• grey poolside shower
• grey shower for swimming pool
• solar heated grey shower
• grey shower for outdoor use




€ 399
Vat included





---



DETAIL
DOCCIA-SOLE-NERA Black garden shower Sined Sole Available 69 Pz

Black solar shower for garden with round shower head diameter 15 cm Tank 22 Litres Foot wash tap Height 226 cm Shower with curved structure in HD Polyethylene with black metal accessories. Anti-scale filter and cover for the shower.

• black solar shower for garden
• black solar shower
• solar shower for garden
• solar heating shower black
• black shower for garden




€ 399
Vat included





---



DETAIL
DOCCIA-SOLE-ROSSA Red shower for garden Available 49 Pz

Red solar shower with curved structure in HD Polyethylene for garden and swimming pool Height 226 cm Round shower head diameter 15 cm Tank 22 Litres Foot-washing tap Accessories in black metal. Anti-scale filter and cover for the shower.

• red shower for garden
• red solar shower
• red solar shower for outdoor use
• red shower for outdoor use
• red solar shower for garden




€ 399
Vat included





---



DETAIL
DOCCIA-SOLE-XXL-BIANCA Large white solar shower Available 92 Pz

Shower with solar heating White. curved body in HD Polyethylene for Garden and Swimming Pool Height 226,6 cm Round shower head diameter 20cm Tank 40 Liters Foot wash tap Accessories in Black metal. Anti-limescale filter and shower cover

• large white solar shower
• white solar shower xxl
• large white shower
• solar shower xxl
• large outdoor shower




€ 559
Vat included





---



DETAIL
DOCCIA-SOLE-XXL-BLU Blue XXL Solar Shower Available 41 Pz

BLUE solar shower with curved structure in HD Polyethylene for Garden and Pool Height 226,6 cm Round shower head diameter 20 cm Tank 40 Litres Foot wash tap Accessories in Black metal. Free anti-scale filter and cover for the shower.

• free water shower
• blue solar shower large
• blue solar shower
• large solar shower
• blue shower for garden




€ 559
Vat included





---



DETAIL
DOCCIA-SOLE-XXL-GRIGIA Grey solar shower for garden Available 141 Pz

Solar shower for swimming pool and garden made of HD Polyethylene for outdoor use. Metal accessories, height 226,6 cm, round shower head diameter 20cm, tank 40 Lit, foot-washing tap. Limestone filter and cover for the shower, included .

• gray solar shower for the garden
• large gray solar shower
• gray solar shower
• gray solar shower camping
• gray solar shower sea




€ 559
Vat included





---



DETAIL
DOCCIA-SOLE-XXL-NERA Large outdoor shower Available 100 Pz

Solar shower Black for garden Shower with round shower head diameter 20 cm Tank 40 Liters Foot wash tap Height 226,6 cm Curved structure in HD Polyethylene with metal accessories balck matt. Limestone filter and cover for the shower, included.

• large outdoor shower
• large black outdoor shower
• large solar shower
• large solar heated shower
• free water shower




€ 559
Vat included





---



DETAIL
DOCCIA-SOLE-XXL-NERA-ORO Large solar shower color Black and Gold Available 46 Pz

Black solar shower for garden with round shower head diameter 20 cm Tank 40 Litres Foot wash tap Height 226,6 cm Curved structure in HD Polyethylene Accessories in gold metal. Anti-limescale filter and shower cover. Gold accessories

• black solar shower for garden
• black solar shower
• solar shower for garden
• solar heating shower black
• black shower for garden




€ 559
Vat included





---



DETAIL
DOCCIA-SOLE-XXL-ROSSA Big red solar shower Available 45 Pz

Solar shower Red, curved structure in HD Polyethylene for Garden and Swimming pool Height 226,6 cm Round shower head diameter 20 cm Tank 40 Liters Footwash tap Accessories in Black metal. For free anti-scale filter and cover for the shower.

• red solar shower large
• red solar shower
• large solar shower
• red shower for garden
• red solar shower heating




€ 559
Vat included





---



DETAIL
DOCCIA-STINTINO-INOX Classic outdoor shower Inox Sined Available 14 Pz

Stainless Steel Shower Stintino Structure and Taps in Stainless Steel Satin AISI 316L marine steel. Adjustable shower head Foot wash and Hand shower with flexible hose Traditional hot and cold water shower with concealed connections

• classic stainless steel outdoor shower
• stainless steel outdoor shower
• classic stainless steel shower
• shower with double mixer
• outdoor shower with hand shower




€ 1479,01
Vat included





---



DETAIL
DOCCIA-STINTINO-NERA Stainless Steel Outdoor Shower Black Available 16 Pz

Outdoor Shower Sined Stintino Structure and Taps in Stainless Steel AISI 316L, marine. Matt Black Shower with hot and cold water inlet with diverter for swivel shower head Foot wash and Hand shower with flexible hose

• black stainless steel outdoor shower
• black stainless steel shower
• black outdoor shower
• black garden shower
• black swimming pool shower




€ 1783,01
Vat included





---



DETAIL
DOCCIA-TOM-NERA Economical outdoor shower Available 99 Pz

Solar garden shower Tom Solar heated shower with PVC structure black Tank 18 liters Round ABS shower head 7 cm and metal mixer height 211 cm Complete with everything needed for installation

• cheap black solar shower
• black solar shower
• cheap solar shower
• cheap shower for outdoor
• outdoor shower




€ 179

€ 143,2
Vat included





---



DETAIL
ESPOSITORE-DOCCE-RETTANGOLARE-BLU Exhibitor Showers Sined Blue 100 x 60 cm Available 13 Pz

Exhibitor Showers Sined Blue. Display stand for showers, blue color, made of steel, size 100 x 60 cm. Equipped with 6 feet that ensure stability. excellent for 3 large showers or 2 large showers and 3 fountains.

• blue sinedb showers display stand
• showers display stand
• fountains display stand
• store display stand
• indoor outdoor display stand




€ 450
Vat included





---



DETAIL
ESPOSITORE-DOCCE-ROTONDO-BLU Display stand Round Blue Sined Available 15 Pz

Exhibitor Showers Sined Blue. Display stand for round showers, blue color, made of steel, diameter 100 cm. Equipped with feet that ensure stability. excellent for 3 large showers or 3 fountains.

• round blue display stand for showers
• display stand for showers
• display stand for drinking fountains
• round display stand for store
• indoor and outdoor display stand




€ 499,99
Vat included