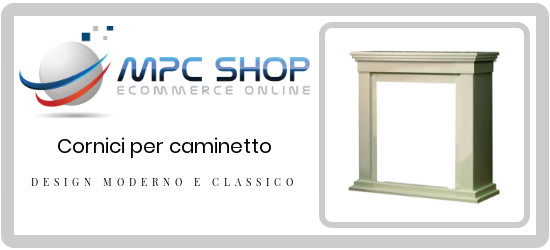 Beautiful modern and classic design fireplace frames made of durable MFD wood excellent for decorating
Wide range of fireplace surrounds and floor standing fireplaces. Ecslusive Italian-designed designs make our MDF wood panelling unique. You won't find any similar ones online.

Linear, modern, classic, minimalist style, so that they can be placed in all environments, home, office or business.

True furnishing complements, they will allow you to complete any environment.

Made of excellent MDF wood, they are easy to assemble, position or move. Minimum maintenance, just a damp cloth to remove dust.

CORNICE-CAMINO-CALDERA-BIANCO Cream white fireplace frame

MDF wood frame, Calderacolor creamy white fireplace surround for electric insert CAMINETTO-VULCANO or existing burner. Timeless classic design. Dimensions
Product dimensions cm: 102,2x114x28,2 Package dimensions cm: 125x42x32 Weight Kg: 25 Gross weight Kg: 27
White Cream


€ 350,01 Vat included






CORNICE-CAMINO-CALDERA-GRIGIO Gray fireplace frame

MDF wood frame cladding for Caldera fireplaces gray color for electric insert CAMINETTO-VULCANO or existing burner. Timeless classic design. Dimensions
Product dimensions cm: 102,2x114x28,2 Package dimensions cm: 125x42x32 Weight Kg: 25 Gross weight Kg: 27
Deep Black


€ 350,01 Vat included






CORNICE-CAMINO-CALDERA-NERO Deep black frame for fireplaces

MDF wood frame cladding for deep black Caldera fireplaces for electric insert CAMINETTO-VULCANO or existing burner. Timeless classic design. Dimensions
Product dimensions cm: 102,2x114x28,2 Package dimensions cm: 125x42x32 Weight Kg: 25 Gross weight Kg: 27
Dark Gray


€ 350,01 Vat included






CORNICE-CAMINO-CALDERA-TURCHESE Turquoise blue frame for fireplaces

MDF wood frame cladding for turquoise blue Caldera fireplaces for electric insert CAMINETTO-VULCANO or existing burner. Timeless classic design. Dimensions
Product dimensions cm: 102,2x114x28,2 Package dimensions cm: 125x42x32 Weight Kg: 25 Gross weight Kg: 27
Turquoise Blue


€ 350,01 Vat included






CORNICE-CAMINO-CETONA-BIANCO Fireplace frame Cetona white

CETONA fireplace frame for electric insert CAMINETTO-VULCANO Wooden frame color White Measurements LxWxH 113.7x28.2x102.2 cm
Product dimensions cm: 102,2x113,7x28,2 Package dimensions cm: 125x42x32 Weight Kg: 32 Gross weight Kg: 34
Fireplace Frames


€ 320,01 Vat included






CORNICE-CAMINO-CETONA-GRIGIO Cetona fireplace frame dark gray

CETONA fireplace frame for electric insert CAMINETTO-VULCANO Wooden frame dark gray color Measures LxWxH 113.7x28.2x102.2 cm
Product dimensions cm: 102,2x113,7x28,2 Package dimensions cm: 125x42x32 Weight Kg: 32 Gross weight Kg: 35
Fireplace Frames


€ 320,01 Vat included






CORNICE-CAMINO-CETONA-NERO Frame deep black fireplace Cetona

Deep black frame for CETONA fireplace, for electric insert CAMINETTO-VULCANO Frame made of excellent MDF wood Measurements WxDxH 113.7x28.2x102.2 cm
Product dimensions cm: 102,2x113,7x28,2 Package dimensions cm: 125x42x32 Weight Kg: 32 Gross weight Kg: 35
Fireplace Frames


€ 320,01 Vat included






CORNICE-CAMINO-CETONA-TURCHESE Blue turquoise fireplace frame Cetona

Turquoise blue frame for CETONA fireplace, for electric insert CAMINETTO-VULCANO Frame made of excellent MDF wood Measurements WxDxH 113.7x28.2x102.2 cm
Product dimensions cm: 102,2x113,7x28,2 Package dimensions cm: 125x42x32 Weight Kg: 32 Gross weight Kg: 35
Fireplace Frames


€ 320,01 Vat included






CORNICE-CAMINO-LIPARI-BIANCO Creamy white electric fireplace frame

MDF wood frame, creamy white Lipari fireplace surround, frame for electric insert CAMINETTO-VULCANO or existing burner. Timeless linear design, suitable for all environments. Dimensions cm 95x102x21,5
Product dimensions cm: 102x95x21,5 Package dimensions cm: 120x36x24 Weight Kg: 32 Gross weight Kg: 35
White Cream


€ 280 Vat included






CORNICE-CAMINO-LIPARI-GRIGIO Gray electric fireplace frame

MDF wood frame, Lipari fireplace surround gray color, frame for electric insert CAMINETTO-VULCANO or existing burner. Timeless linear design, suitable for all environments. Dimensions cm 95x102x21,5
Product dimensions cm: 102x95x21,5 Package dimensions cm: 120x36x24 Weight Kg: 32 Gross weight Kg: 35
Gray


€ 280 Vat included






CORNICE-CAMINO-LIPARI-NERO Black electric fireplace frame

MDF wood frame, deep black Lipari fireplace surround, frame for electric insert CAMINETTO-VULCANO or existing burner. Timeless linear design, suitable for all environments. Dimensions cm 95x102x21,5
Product dimensions cm: 102x95x21,5 Package dimensions cm: 120x36x24 Weight Kg: 32 Gross weight Kg: 35
Black


€ 280 Vat included






CORNICE-CAMINO-LIPARI-TURCHESE Turquoise blue electric fireplace frame

MDF wood frame, turquoise blue Lipari fireplace surround, frame for electric insert CAMINETTO-VULCANO or existing burner. Timeless linear design, suitable for all environments. Dimensions cm 95x102x21,5
Product dimensions cm: 102x95x21,5 Package dimensions cm: 120x36x24 Weight Kg: 32 Gross weight Kg: 35
Turquoise Blue


€ 280 Vat included






CORNICE-CAMINO-MERAPI-BIANCO Merapi creamy white fireplace frame

MDF wood frame cladding for Merapi fireplaces creamy white color. Frame for electric insert VULTURE-150. Easy to assemble wooden frame. Measurements LxWxH 110x24.9x94.9 cm
Product dimensions cm: 200x83x33 Package dimensions cm: 93x209x42 Weight Kg: 40 Gross weight Kg: 43
MERAPI WHITE FRAME


€ 1289 Vat included






CORNICE-CAMINO-PIENZA-BIANCO Creamy white frame Pienza fireplaces

MDF wooden frame, veneer for Pienza fireplaces creamy white color. Frame for electric insert VULCANO. Easy to assemble wooden frame. Measurements LxWxH 110x24.9x94.9 cm
Product dimensions cm: 94,9x110x24,9 Package dimensions cm: 36x122x21 Weight Kg: 22,8 Gross weight Kg: 25,8
Fireplace Frames


€ 270 Vat included






CORNICE-CAMINO-PIENZA-GRIGIO Pienza fireplace frame dark gray

MDF wooden frame, veneer for Pienza fireplaces dark gray color. Frame for electric insert VULCANO. Easy to assemble wooden frame. Measurements LxWxH 110x24.9x94.9 cm
Product dimensions cm: 94,9x110x24,9 Package dimensions cm: 36x122x21 Weight Kg: 22,8 Gross weight Kg: 25,8
Fireplace Frames


€ 270 Vat included






CORNICE-CAMINO-PIENZA-NERO Pienza fireplace frame deep black

MDF wood frame, veneer for Pienza fireplaces deep black color. Frame for VULCANO electric insert.Easy to assemble wooden frame. Measurements LxWxH 110x24.9x94.9 cm
Product dimensions cm: 94,9x110x24,9 Package dimensions cm: 36x122x21 Weight Kg: 22,8 Gross weight Kg: 25,8
Fireplace Frames


€ 270 Vat included






CORNICE-CAMINO-PIENZA-TURCHESE Pienza fireplace frame turquoise blue

MDF wood frame, veneer for Pienza fireplaces turquoise blue color. Frame for electric insert VULCANO. Easy to assemble wooden frame. Measurements LxWxH 110x24.9x94.9 cm
Product dimensions cm: 94,9x110x24,9 Package dimensions cm: 36x122x21 Weight Kg: 22,8 Gross weight Kg: 25,8
Fireplace Frames


€ 270 Vat included






Rubyfires-Adra Fireplace Surround Adra white MDF wood

Fireplace Surround Rubyfires Adra White varnished MDF Wood for Ruby Fires fireplaces Flandria Lucius and Riano
Product dimensions cm: 98x91x30,6 Package dimensions cm: 103x15x30,6 Weight Kg: 25 Gross weight Kg: 26
Fireplace Mantel


€ 243,88 Vat included






Rubyfires-Calgary Fireplace Mantel Calgary white MDF wood

Fireplace frame Rubyfires Calgary White varnished MDF Wood for Ruby Fires fireplace Lagos
Product dimensions cm: 94x34x96 Package dimensions cm: 107x40x17 Weight Kg: 25 Gross weight Kg: 26
Fireplace Mantel


€ 231,68 Vat included






Rubyfires-Elda Fireplace Frame Elda white MDF wood

Elda Fireplace Frame in White MDF wood Frame with classic decorations to be painted as desired Frame for Rubyfires electric fireplaces or bio-fireplaces Can be combined with Riano Bioethanol Fireplace or Flandria and Lucius electric fireplaces
Product dimensions cm: 98x34x93,8 Package dimensions cm: 103x15x40 Weight Kg: 25 Gross weight Kg: 26
Fireplace Mantel


€ 268,28 Vat included






Rubyfires-Hamar Fireplace Mantel Hamar white MDF wood

Fireplace Frame Ruby Fires Hamar in White MDF Wood to be painted as desired Frame for electric fireplaces or bio-fireplaces in modern and linear style Matchable with Elski electric burner
Product dimensions cm: 96,5x30x78,6 Package dimensions cm: 100x31x15 Weight Kg: 16,5 Gross weight Kg: 18
Fireplace Mantel


€ 256,08 Vat included






Rubyfires-Udine Frame for Wall Fireplace White MDF wood

Fireplace frame Udine made of MDF wood color white for wall mounting Modern repaintable fireplace surround Suitable for fireplace insert Rubyfires MF1640C
Product dimensions cm: 60x30x62 Package dimensions cm: 30x69x67,5 Weight Kg: 15 Gross weight Kg: 15
Fireplace Mantel


€ 207,91 Vat included