Are you interested in a Sined infrared shop? Touch, see and verify to believe
!
The beauty, power and warmth of the Sined infrared heaters can only be appreciated when you stand in front of the switched-on heaters. Many end customers would like to physically see the Sined infrared heaters and then buy them in a shop.
We want to direct all customers in your area to a Sined Point that can provide information, support and service.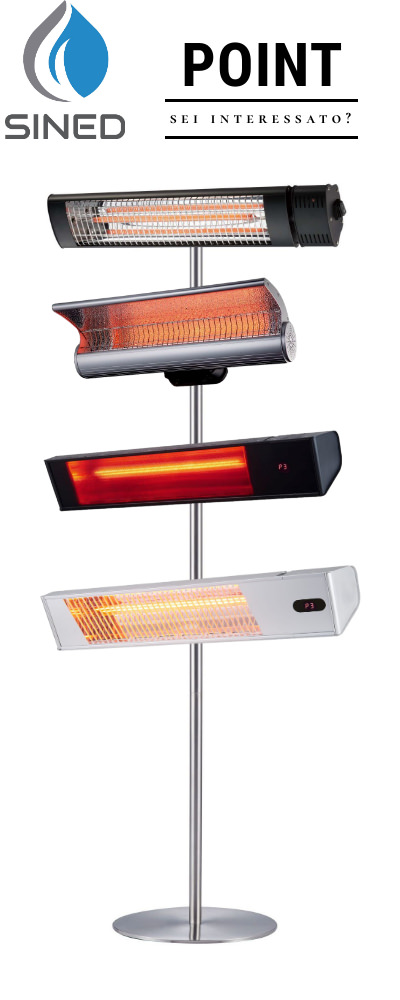 SINED regularly organises, we do a minimum of 2 events, exhibitions, conferences, demonstrations in a year, to make our customers and dealers aware of the latest developments in the field of infrared heating.

We are moving towards higher temperatures, we need to save money, choose products that make us consume less electricity, do not emit dust, fumes or harmful residues, and do not pollute. SINED offers to physically test its infrared heaters.

You know more than we do how important it is to demonstrate, to put into operation, to be able to highlight the full technical potential of your products to the end customer.

How can you do this? Easy, we have, for our dealers, created a SINED POINT. You can easily see it in the picture below. You will see for yourself the quality and goodness of our articles.
Placed on a pole, in a small space you practically have a shop! Easy, immediate, all items at your fingertips and your eye.
Switch them on, switch them off, orient them, in a few minutes you will have a wide choice of actions for demonstration and definitely increase your sales!

This is not an experiment! We have already tested and verified over time the goodness of this initiative, selling online is very useful, but if you can demonstrate the actual potential of the items you sell it`s a whole different story.

Touch, see and verify to believe!

Important, and not insignificant, is the after-sales aspect. Our retailers have a structure behind them that can meet every need before and after the sale. Advice, assistance, shipping, any (very rare) operating problems, all of this is the responsibility of the Soc. SINED......you just sell and earn!

Below Denis and Alberto during their last demonstration, held at the Meeting & Events - STARHOTELS Tourist - Milan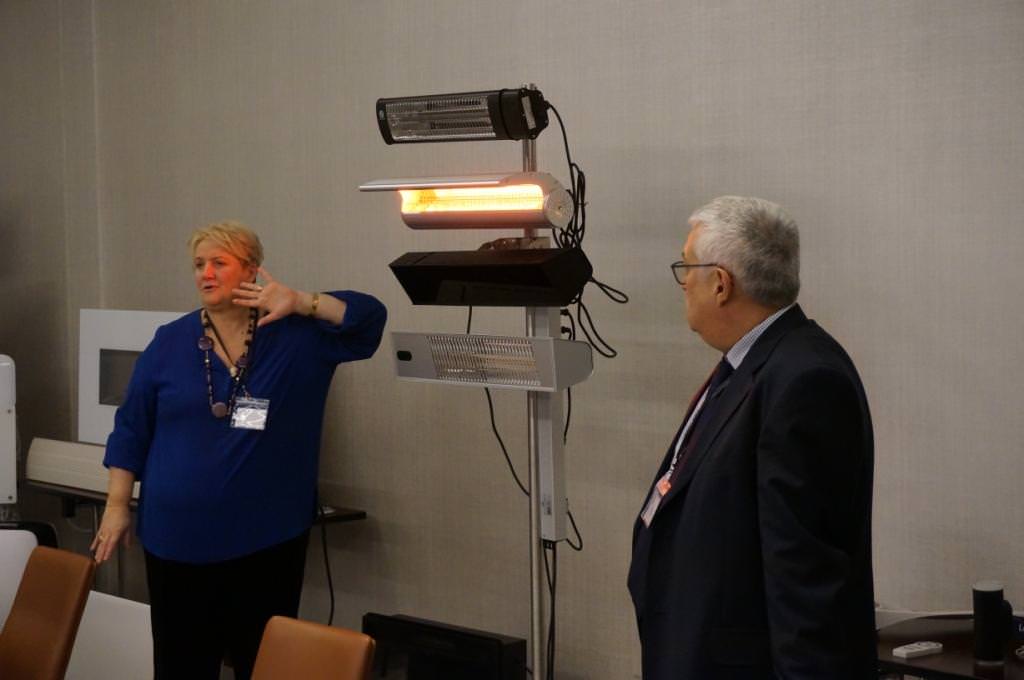 CALDO-I-BOX Outdoor infrared heater

Modern infrared heater with 2000W adjustable power Made of steel and aluminium Remote control with timer included IP65 protection Asymmetrical irradiation for a larger irradiated area
Product dimensions cm: 60,2x25x12 Package dimensions cm: 67x20,5x37 Weight Kg: 2,9 Gross weight Kg: 3,95




€ 399 Vat included






CALDO-IRA-INOX-2000 Outdoor heating lamp

Infrared heater outdoor use with adjustable power 2000W Structure in anodized aluminium and steel Short-wave IR-A indoor heating lamp and remote control Elegant design with protection grid and led display
Product dimensions cm: 74,2x11x13,9 Package dimensions cm: 80x21,5x23 Weight Kg: 2,4 Gross weight Kg: 3,6




€ 319,01 Vat included






CALDO-IRA-INOX-2000-WIFI Outdoor WIFI heating lamp

Outdoor WIFI infrared heater with 2000W adjustable power Anodized aluminum and steel construction Short-wave IR-A heating lamp and remote control Elegantly designed with grille for protection and LED display
Product dimensions cm: 74,2x11x13,9 Package dimensions cm: 80x21,5x23 Weight Kg: 2,4 Gross weight Kg: 3,6




€ 359 Vat included






CALDO-IRA-INOX-PALO Outdoor infrared heater with pole

Outdoor heating lamp with complete kit of pole and adjustable power 2000W Structure in anodized aluminium and steel Electric outdoor heating through short wave IR-A and remote control It has a grid for protection and display
Product dimensions cm: 0 Package dimensions cm: 80x21,5x23 Weight Kg: 2,4 Gross weight Kg: 3,6




€ 499 Vat included






CALDO-IRA-INOX-PALO-WIFI Outdoor WIFI infrared heater with pole

Outdoor WIFI heating lamp with complete pole kit and 2000W adjustable power Anodized aluminum and steel structure Outdoor electric heating via short-wave IR-A and remote control With grille for protection and display,
Product dimensions cm: 0 Package dimensions cm: 80x21,5x23 Weight Kg: 2,4 Gross weight Kg: 3,6




€ 539 Vat included






CALDO-IRB-NERO-2000 Infrared lamp

Infrared medium wave heater IR-B with carbon resistance with 2000W power adjustable on 3 levels Infrared wall heater made of aluminium and steel It can be oriented at 45 degrees Remote control included Protection degree IP65
Product dimensions cm: 65,8x13,3x8,8 Package dimensions cm: 77,5x16x19 Weight Kg: 2,4 Gross weight Kg: 3,5




€ 198,99 Vat included






CALDO-IRB-NERO-TERRA Infrared lamp with pole

Infrared electric heater complete with pedestal from 2000W adjustable Outdoor heating is via medium waves IR-B Degree of protection IP65 Effective for outdoor areas of apartments bars and restaurants Remote control included
Product dimensions cm: 0 Package dimensions cm: 77,5x16x19 Weight Kg: 2,4 Gross weight Kg: 3,5




€ 378,99 Vat included






CALDO-VETRO-NERO-2000 Black crystal infrared heater

Practical infrared heater with black crystal protection and remote control included that manages the 3 power steps 33-66-100% to optimize power consumption according to heating needs. A real warm black glass in winter
Product dimensions cm: 13,9x11x74,2 Package dimensions cm: 80x21,5x23 Weight Kg: 3,2 Gross weight Kg: 4,4




€ 419 Vat included






CALDO-VETRO-NERO-2000-WIFI Infrared heater WIFI black glass

Infrared heater WIFI Sined IR-A with black protection crystal and supplied remote control that manages the 3 power steps 33-66-100% to optimize power consumption according to heating needs. A true warm glass color ne
Product dimensions cm: 13,9x11x74,2 Package dimensions cm: 80x21,5x23 Weight Kg: 3,2 Gross weight Kg: 4,4




€ 469 Vat included






CALDO-VETRO-NERO-PIEDISTALLO Outdoor heater on pole

Outdoor infrared radiator with short wave pedestal IR-A Power 2000W made of stainless steel anodized aluminium and ceramic glass It has 3 power levels 100%, 66% or 33% Adjustment angle 0°, 15° and 30 Protection IP65
Product dimensions cm: 0 Package dimensions cm: 80x21,5x23 Weight Kg: 3,2 Gross weight Kg: 4,4




€ 599 Vat included






CALDO-VETRO-NERO-PIEDISTALLO-WIFI Outdoor WIFI heater on pole

Infrared WIFI outdoor short-wave pedestal radiator IR-A Power 2000W made of stainless steel anodized aluminum and glass ceramic. 3 power levels 100%, 66 33\nngle of adjustment 0°, 15° and 30 Protection IP65
Product dimensions cm: 0 Package dimensions cm: 80x21,5x23 Weight Kg: 3,2 Gross weight Kg: 4,4




€ 649 Vat included






CALORE-BIANCO-1500 White ceramic infrared heater

Outdoor infrared radiator A7 IR-C , far infrared with no light emission. Heating element made of extruded aluminium alloy, ceramic infrared painting 1500W Waterproof IP65, suitable for outdoor dust and rain.
Product dimensions cm: 104,5x17,7x6 Package dimensions cm: 111x20x14 Weight Kg: 5,4 Gross weight Kg: 6,9
1500 W
CALORE-BIANCO-1800 Excellent infrared radiator 1800W

A7 series IR-C far infrared outdoor radiator no light emission. Heating element made of extruded aluminium alloy, ceramic infrared painting 1800W Waterproof IP65, suitable for outdoor dust and rain.
Product dimensions cm: 122,5x17,7x6 Package dimensions cm: 129x20x14 Weight Kg: 6,1 Gross weight Kg: 7,9
1800 W



€ 405 Vat included






CALORE-BIANCO-2400 Wall mounted infrared radiator

A7 series IR-C far infrared wall mounted radiator no light emission. Heating element made of extruded aluminium alloy, 2400W ceramic infrared painting Waterproof IP65, suitable for outdoor dust and rain.
Product dimensions cm: 150,5x17,7x6 Package dimensions cm: 157x20x14 Weight Kg: 7,5 Gross weight Kg: 9,4
2400 W



€ 519 Vat included






CALORE-BIANCO-3200 Infrared heater commercial area

Outdoor infrared radiator A7 IR-C , far infrared with no light emission. Heating element made of extruded aluminum alloy, infrared ceramic paint 3200W Waterproof IP65 suitable for outdoor dust and rain.
Product dimensions cm: 191,5x17,7x6 Package dimensions cm: 198x20x14 Weight Kg: 9,5 Gross weight Kg: 11,8
3200 W



€ 559 Vat included






CALORE-NERO-1500 Infrared heater black 1500 watt

Outdoor infrared heater A7 IR-C , 1500 w long-wave infrared with no light emission. Heating element made of extruded aluminum alloy, Ceramic coating Black Water-proof IP65, suitable for dust and rain outdoors
Product dimensions cm: 104,5x17,7x6 Package dimensions cm: 111x20x14 Weight Kg: 5,4 Gross weight Kg: 6,9
1500 W
CALORE-NERO-1500-WIFI Infrared heater black 1500 watt

Outdoor WIFI infrared heater A7 IR-C , 1500w long-wave infrared with no light emission. Extruded aluminum alloy heating element, Ceramic coating Black Water-proof IP65, suitable for outdoor use
Product dimensions cm: 104,5x17,7x6 Package dimensions cm: 111x20x14 Weight Kg: 5,4 Gross weight Kg: 6,9
1500 W



€ 379,01 Vat included






CALORE-NERO-1800 Excellent black infrared heater

Outdoor infrared heater series A7 IR-C long wave infrared no light emission. Heating element made of extruded aluminum alloy, ceramic paint Black 1800W Water proof IP65, suitable for dust and rain outdoors
Product dimensions cm: 122,5x17,7x6 Package dimensions cm: 129x20x14 Weight Kg: 6,1 Gross weight Kg: 7,9
1800 W



€ 389 Vat included






CALORE-NERO-1800-WIFI Black infrared WIFI radiator

Outdoor infrared WIFI heater A7 series IR-C long wave infrared no light emission. Extruded aluminum alloy heating element, ceramic paint Black 1800W Water-proof IP65, suitable for outdoor use.
Product dimensions cm: 122,5x17,7x6 Package dimensions cm: 129x20x14 Weight Kg: 6,1 Gross weight Kg: 7,9
1800 W



€ 429 Vat included






CALORE-NERO-2400 Black infrared wallmounted radiator

Black wall-mounted long wave infrared heater series A7 IR-C without any light emission. Aluminum alloy heating element with ceramic coating 2400W Water proof IP65, suitable for dust and rain and for outdoor use.
Product dimensions cm: 150,5x17,7x6 Package dimensions cm: 157x20x14 Weight Kg: 7,5 Gross weight Kg: 9,4
2400 W



€ 469 Vat included






CALORE-NERO-2400-WIFI Black WIFI Infrared Wall Radiator

Black WIFI radiator, long wave infrared wall mounted A7 series IR-C, no light emission. Aluminum alloy heating element ceramic coating 2400W Water-proof IP65, suitable for outdoor use.
Product dimensions cm: 150,5x17,7x6 Package dimensions cm: 157x20x14 Weight Kg: 7,5 Gross weight Kg: 9,4
2400 W



€ 509 Vat included






CALORE-NERO-3200 Infrared lamp for restaurants

Outdoor infrared heating panel A7 IR-C , infrared log wave no light emission. Super-efficient 3200w heating element made of extruded aluminium alloy, black ceramic anti-yellowing infrared painting
Product dimensions cm: 191,5x17,7x6 Package dimensions cm: 198x20x14 Weight Kg: 9,5 Gross weight Kg: 11,8
3200 W



€ 509 Vat included






CALORE-NERO-3200-WIFI Infrared WIFI lamp for restaurants

Outdoor infrared WIFI heating panel A7 IR-C , long wave infrared no light emission. Super efficient 3200w heating element made of extruded aluminum alloy, anti yellowing black ceramic infrared paint.
Product dimensions cm: 191,5x17,7x6 Package dimensions cm: 198x20x14 Weight Kg: 9,5 Gross weight Kg: 11,8
3200 W



€ 559 Vat included






Kit-espo-Riscaldatori-Infrarossi Sined Infrared Display

Outdoor infrared heating lamp kit complete with adjustable anti-tilt pole Anodized aluminum and steel structure Outdoor electric heating via short wave IR-A or medium wave IR-B remote control elegance protection and display
Product dimensions cm: 0 Package dimensions cm: 0 Weight Kg: 9,5 Gross weight Kg: 11,8




€ 1426 Vat included






STAFFE-GEMELLE-RISCALDATORE Fixing brackets Pair of heaters

brackets for ceiling mounting of a pair of wall reflecting eyelid heaters. Heaters are not included, but must be purchased separately.
Product dimensions cm: 0 Package dimensions cm: 17x13x39,5 Weight Kg: 1,3 Gross weight Kg: 1,6




€ 80 Vat included






STUFA-INFRAROSSI-PARETE-2000 Wall reflective eyelid heater

Wall reflecting eyelid heater Practical and economical wall reflecting eyelid heater with remote control, also excellent as wall heat diffuser. Total power 2000 W. Protected against water jets with IP65
Product dimensions cm: 59,6x13,5x32 Package dimensions cm: 65x19x40,5 Weight Kg: 3,8 Gross weight Kg: 4,9




€ 309 Vat included






STUFA-INFRAROSSI-SOFFITTO-4000 Ceiling heaters

Double reflective ceiling heater with 2000W each with a total of 4000W Ceiling heaters made of high quality stainless steel and anodised aluminium IP65 protection rating Remote control included
Product dimensions cm: 0 Package dimensions cm: 65x38x40,5 Weight Kg: 3,8 Gross weight Kg: 9,8




€ 698 Vat included






STUFA-INFRAROSSI-TERRA-2000 Infrared floor heater

Reflective eyelid heater from floor standing Heater with reflective eyelid adjustable wall mounted with remote control, also excellent as floor heat diffuser. Total power 2000 W. Protected against water jets with IP65
Product dimensions cm: 218x60x60 Package dimensions cm: 75,5x33,5x56,5 Weight Kg: 21,5 Gross weight Kg: 26,6




€ 519 Vat included






STUFA-INFRAROSSI-TERRA-4000 Double floor infrared heater

Double reflective floor heater with eyelid 2000_2000w Practical and economical pair of infrared lamps IR-A with remote control, excellent as a heat diffuser for outdoor use. Total power 4000 W. Protected against water jets with IP65
Product dimensions cm: 0 Package dimensions cm: 65x38x40,5 Weight Kg: 4,1 Gross weight Kg: 9,8




€ 798 Vat included






SUPPORTO-RISCALDATORE Floor stand for heaters

Floor stand for infrared lamps suitable for mounting 2 Infrared Eyelid heaters or 1 Hot-Glass or Hot-IRA or Hot-IRB only
Product dimensions cm: 0 Package dimensions cm: 73x54x9,5 Weight Kg: 18 Gross weight Kg: 19




€ 180 Vat included