The fireplace that was missing! Extremely modern and minimalist Scandinavian-style design. Simple, robust, with their taut lines these Sorano series electric fireplaces fit well in all interior design contexts.

Modern and extremely versatile looks combined with excellent materials make these fireplaces unique in electric heating for interior, domestic or commercial use.

Unobtrusive dimensions, with a depth of only 25 cm they are perfect for medium-sized rooms. All manageable with the supplied remote control, the flame can be activated independently of the heating mode. In addition to the remote control, you can also choose the various options from the front panel.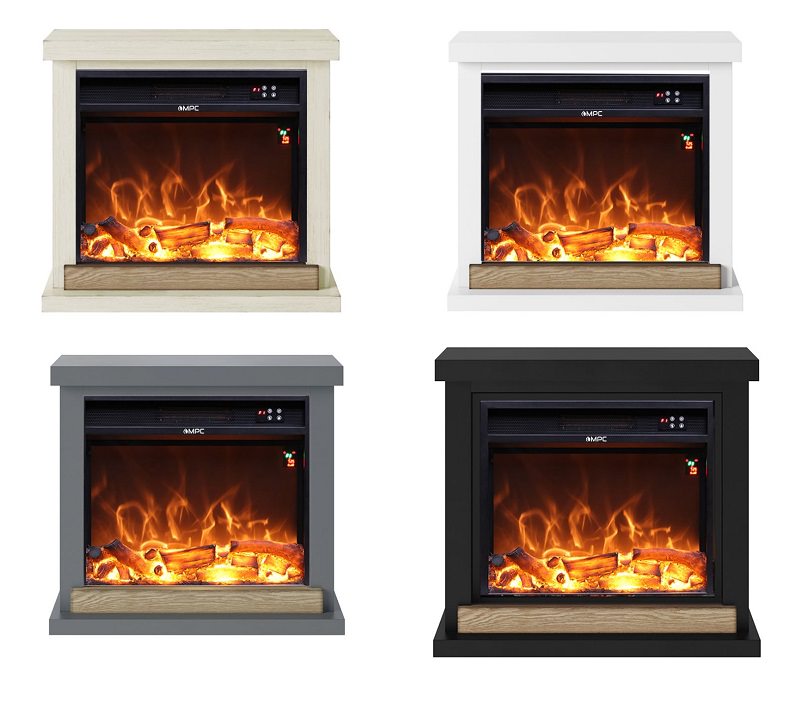 Peculiarities
- No chimney, no dust or soot, no permit required.
- High-quality multilayer cladding.
- Flame effect, extra bright LED.
- Convenient shelf for storage.
- You can use it in all seasons, even the warm season, with just the realistic LED flame effect.
- 7-day programmable heating programme
- Digital thermostat
- Electronic timer
- Open window detection
- Adjustable brightness
- Remote control
- Tempered firebox glass
- Open window sensor, with buzzer alarm
- Certification: CE&ERP



CAMINETTO-VULCANO Vulcan electric fireplace insert

New electric LED fireplace burner designed for our frames or as a complement to existing fireplaces. Power 1500W, all functions controllable from remote control or front panel. Possible to use flame effect only.
Product dimensions cm: 49,5x60x15 Package dimensions cm: 56x66x21 Weight Kg: 10 Gross weight Kg: 11
BLACK



€ 319,01
€ 287,11 Vat included






CAMINO-SORANO-AVORIO Ivory floor fireplace

Floor and wall fireplace composed of ivory color frame and black electric burner 1500W with real LED flame effect. Fireplace design complete with remote control. Made of high quality MDF wood Easy to place or move.
Product dimensions cm: 67,8x75x24,5 Package dimensions cm: 19x85x35 Weight Kg: 21,2 Gross weight Kg: 24,8
IVORY
€ 419,01
€ 377,11 Vat included






CAMINO-SORANO-BIANCO White floor fireplace

Floor and wall fireplace composed of white frame and black electric burner 1500W with real LED flame effect. Fireplace design complete with remote control. Made of high quality MDF wood Easy to place or move.
Product dimensions cm: 67,8x75x24,5 Package dimensions cm: 19x85x35 Weight Kg: 21,2 Gross weight Kg: 24,8
WHITE
€ 419,01
€ 377,11 Vat included






CAMINO-SORANO-GRIGIO-SCURO Dark gray floor fireplace

Dark gray fireplace for floor and wall composed of frame and black electric burner 1500W with real LED flame effect. Fireplace design complete with remote control. Made of high quality MDF wood Easy to place or move.
Product dimensions cm: 67,8x75x24,5 Package dimensions cm: 19x85x35 Weight Kg: 21,2 Gross weight Kg: 24,8
DARK GRAY
€ 419,01
€ 377,11 Vat included






CAMINO-SORANO-NERO Black floor fireplace

Floor and wall fireplace composed of black frame and black electric burner 1500W with real LED flame effect. Fireplace design complete with remote control. Made of high quality MDF wood Easy to place or move.
Product dimensions cm: 67,8x75x24,5 Package dimensions cm: 19x85x35 Weight Kg: 21,2 Gross weight Kg: 24,8
BLACK
€ 419,01
€ 377,11 Vat included