Search and find the best garden fountains, discover our vast collection, you will undoubtedly find the fountain that suits you.
Italian design and total control of the construction process. To meet the needs of our customers, they have been designed to satisfy even the most demanding. They are easy to install and can be moved around, and have exclusive, high-quality accessories, such as the 7-metre long flexible hose with quick-connect gun and 8 types of jet.

Wide range, discover all the colour variations, available in 5 colours, including the exclusive dove grey.

Ideal for gardens, swimming pools, beaches, establishments, condominiums, hotels, bed and breakfasts and in general all outdoor activities, including games. All supplied with a useful 5 litre high strength polyethylene PHD bucket with black aluminium leaf catche

Main features
- Height 100 cm
- Diameter 15 cm
- Black Matt metal alloy tap
- Predisposition for garden hose quick couplings
- Aluminium opening lid
- Fountain body storage compartment
- Internal housing for flexible hose
- 7,5 m flexible hose
- Spray gun 8 different jets
- 5 litre PHD high-strength polyethylene bucket with black aluminium grille
- Fixing dowels included
- Internal 15 kg braided metal hoses
- Double provision for water connection
- Side or bottom water inlet with 3-way valve
- Easily movable
- Easy and immediate installation,
- No special skills required for installation
- Easily sanitised.
- Fountain made of HDPE (high strength polyethylene) resistant to UV rays, limescale and salt.
- Suitable for all outdoor activities, also for marine environments.
- Practical internal hose for watering the garden
- Ideal for watering the garden or outdoor areas.
- Simple to set up, it adapts easily to many environments.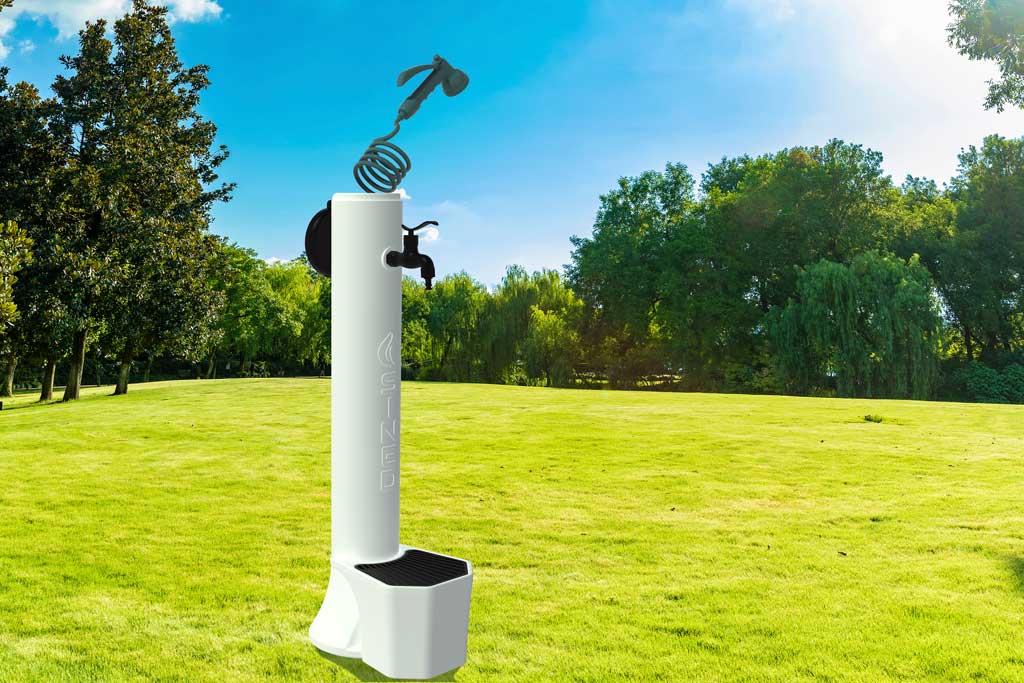 FONTANA-TRITONE-PRO-BIANCA White garden fountain

White garden fountain with cold water supplied with tap, water tank with aluminium grid for leaves collection and internal flexible hose. Double water connection. For all outdoor activities, even marine environments.
Product dimensions cm: 25x33x99 Package dimensions cm: 26x29x100 Weight Kg: 9,5 Gross weight Kg: 11,3
White



€ 429 Vat included






FONTANA-TRITONE-PRO-NERA Black fountain for garden

Black garden fountain model TRITONE-PRO. Double water connection, basket at the base and flexible hose 7,5 m. long to water the garden or the outdoor spaces. Made of high resistance polyethylene. Everything necessary for easy assembly
Product dimensions cm: 25x33x99 Package dimensions cm: 26x29x100 Weight Kg: 9,5 Gross weight Kg: 11,3
Black
FONTANA-TRITONE-PRO-ROSSA Red Garden Fountain

Red fountain for garden model TRITONE-PRO. Double water connection, basket at the base and flexible hose 7,5 m. long to water the garden or the outdoor spaces. Made of high resistance polyethylene. Everything necessary for easy assembly
Product dimensions cm: 25x33x99 Package dimensions cm: 26x29x100 Weight Kg: 9,5 Gross weight Kg: 11,3
Red



€ 429 Vat included






FONTANA-TRITONE-PRO-TORTORA Brown Turtledove Garden Fountain

Dove brown fountain model TRITONE-PRO. Double water connection, basket at the base and flexible hose 7,5 m. long to water the garden or the outdoor spaces. Made of high resistance polyethylene. Everything you need for easy assembly
Product dimensions cm: 25x33x99 Package dimensions cm: 26x29x100 Weight Kg: 9,5 Gross weight Kg: 11,3
Brown Turtledove



€ 429 Vat included






FONTANA-TRITONE-PRO-VERDE Green outdoor fountain

Outdoor green fountain model TRITONE-PRO. Double water connection, basket at the base and flexible hose 7,5 m. long to water the garden or the outdoor spaces. Made of high resistance polyethylene. Everything necessary for easy assembly
Product dimensions cm: 25x33x99 Package dimensions cm: 26x29x100 Weight Kg: 9,5 Gross weight Kg: 11,3
Green



€ 429 Vat included