Brand new from SINED! Super-equipped fountains with details of absolute excellence. You won`t find any other fountain made with this quality and exclusive construction features.

Designed in Italy, they are distinguished by the accompanying accessories sold without extra charge, two above all, the retractable hose with gun and the leaf collection bucket at the base.

Made of robust high-density polyethylene, they are ideal for outdoor installation, even in marine environments. Their special construction makes them excellent for large workloads such as those in apartment buildings.

Value for money of absolute excellence!

SINED offers you this range in 5 colours that fit well into any outdoor environment.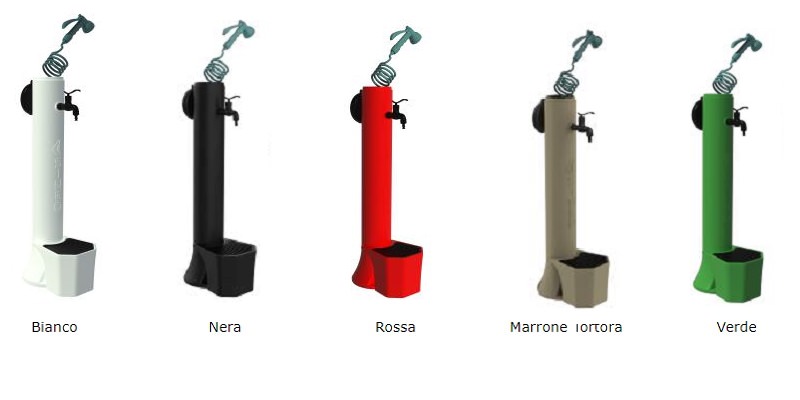 Unique features you won`t find anywhere else!
- Height 100 cm
- 15 cm diameter
- Black Matt metal alloy tap
- Predisposition for garden hose quick couplings
- Aluminium opening lid
- Fountain body storage compartment
- Internal housing for hose
- 7.5 m flexible hose
- Spray gun 8 different jets
- 5 litre high-strength polyethylene PHD bucket with black aluminium grille
- Fixing plugs included
- Internal 15 Kgs metal braided hoses
- Double provision for water connection
- Side or bottom water inlet with 3-way valve
- Easily movable
- Easy and immediate installation
- Requires no special assembly skills
- Easily sanitised.
- Fountain made of HDPE (high-strength polyethylene) resistant to UV rays, limescale and salt.
- Suitable for all outdoor activities, also for marine environments.
- Practical internal hose for watering the garden
- Ideal for watering the garden or outdoor areas.
- Simple to set up, it adapts easily to many environments.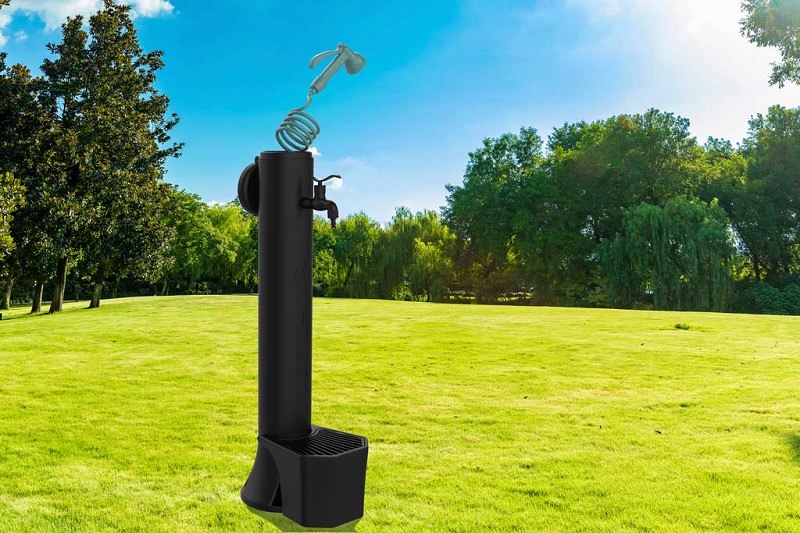 Some useful tips:
First start-up
Before connecting the water hose to the fountain, purge the pipes by running water for at least 5 minutes to remove any debris that may be in the pipes. minutes to remove any debris that may be in the pipes. Make sure that only clean water comes out without residue.

Dismantling at the end of the season
During the winter period, the fountain must be COMPLETELY drained of the water it contains. In addition during the winter the fountain must be dismantled and stored in a dry place.
Remove the fixing screws on the base and empty the remaining water from the bottom of the fountain by tilting it (absolutely necessary!).
Failure to observe this warning can lead to frost damage to the product. Frost damage is not covered by warranty.

Cleaning
Use commercially available cleaning agents for cleaning. Do not use cleaning agents containing solvents, abrasive cleaners or hard sponges, brushes, etc.

Easy assembly, see graphic tutorial below: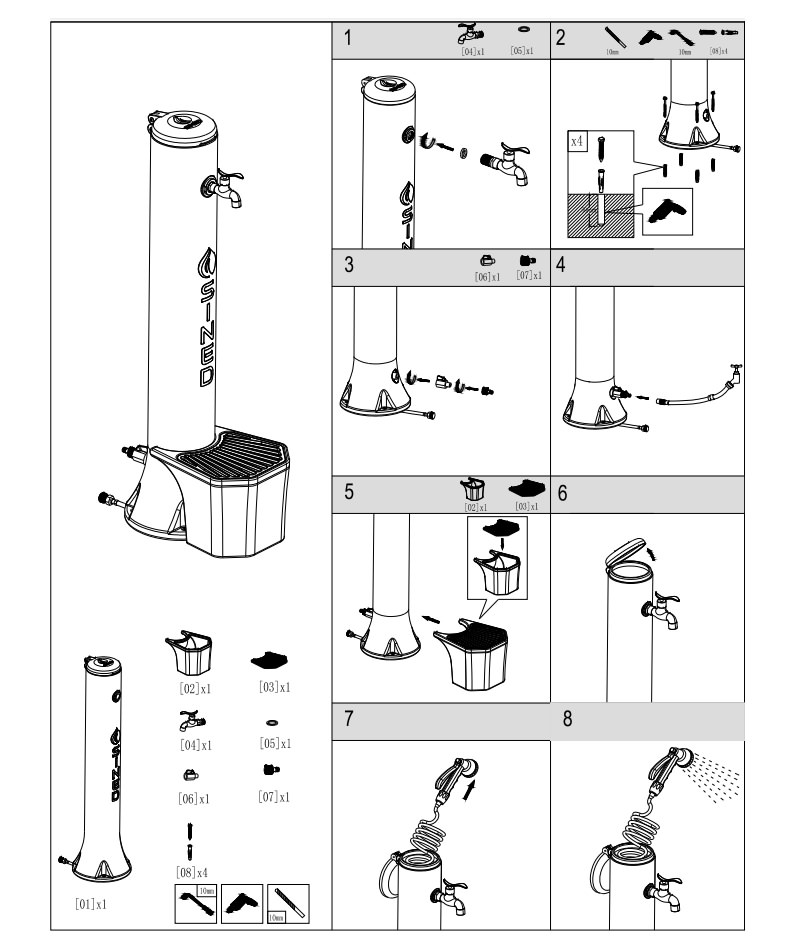 ---

Related items

---



DETAIL
FONTANA-TRITONE-PRO-BIANCA White Garden Fountain Available 18 Pz

White Garden Fountain With Cold Water Supplied With Tap, Water Tank With Aluminium Grid For Leaves Collection And Internal Flexible Hose. Double Water Connection. For All Outdoor Activities, Even Marine Environments.

• white garden fountain
• white outdoor fountain
• white garden fountain
• garden fountain
• outdoor fountain




€ 429
Vat included





---



DETAIL
FONTANA-TRITONE-PRO-NERA Black Fountain For Garden Available 103 Pz

Black Garden Fountain Model Tritone-pro. Double Water Connection, Basket At The Base And Flexible Hose 7,5 M. Long To Water The Garden Or The Outdoor Spaces. Made Of High Resistance Polyethylene. Everything Necessary For Easy Assembly

• black drinking fountain for garden
• black drinking fountain with bucket
• fountain with bucket for outdoor use
• fountain with bucket for garden
• new fountain




€ 429
Vat included





---



DETAIL
FONTANA-TRITONE-PRO-ROSSA Red Garden Fountain Available 22 Pz

Red Fountain For Garden Model Tritone-pro. Double Water Connection, Basket At The Base And Flexible Hose 7,5 M. Long To Water The Garden Or The Outdoor Spaces. Made Of High Resistance Polyethylene. Everything Necessary For Easy Assembly

• red garden fountain
• milan garden fountain
• milan garden fountain
• milan outdoor fountain
• milan outdoor fountain
• milan outdoor fountain




€ 429
Vat included





---



DETAIL
FONTANA-TRITONE-PRO-TORTORA Brown Turtledove Garden Fountain Available 15 Pz

Dove Brown Fountain Model Tritone-pro. Double Water Connection, Basket At The Base And Flexible Hose 7,5 M. Long To Water The Garden Or The Outdoor Spaces. Made Of High Resistance Polyethylene. Everything You Need For Easy Assembly

• brown garden fountain
• taupe garden fountain
• modern garden fountain
• modern garden fountain
• garden fountain for sale online




€ 429
Vat included





---



DETAIL
FONTANA-TRITONE-PRO-VERDE Green Outdoor Fountain Available 21 Pz

Outdoor Green Fountain Model Tritone-pro. Double Water Connection, Basket At The Base And Flexible Hose 7,5 M. Long To Water The Garden Or The Outdoor Spaces. Made Of High Resistance Polyethylene. Everything Necessary For Easy Assembly

• green garden fountain
• outdoor green fountain
• fountain sale online
• urban furniture fountain
• fountain with bucket




€ 429
Vat included





---



DETAIL
SECCHIELLO-TRITONE-NERO Bucket For Garden Fountain Black Available 50 Pz

Bucket Garden Fountain Black For Fountains Series Tritone. It Can Be Combined Also With Fountains Of Different Colors Without Problems. Made Of Polyethylene Pehd High Resistance, Indeale Also For Marine Environments. Italian Project

• garden fountain bucket black
• garden fountain bucket black
• garden fountain bucket black
• garden bucket black
• black bucket




€ 49
Vat included





---



DETAIL
SECCHIELLO-TRITONE-VERDE Bucket For Green Garden Fountain Available 7 Pz

Bucket Garden Fountain Green For Fountains Series Tritone. It Can Be Combined Also With Fountains Of Different Colors Without Problems. Made Of Polyethylene Pehd High Resistance, Indeale Also For Marine Environments. Italian Project

• green garden fountain bucket
• green garden fountain bucket
• green garden fountain bucket
• green garden bucket
• green bucket




€ 49
Vat included