Innovative garden fountains proposed by SINED, very functional, super-equipped and excellent value for money.

Always in step with our customers` tastes and the latest technical innovations, SINED proposes the ACQUA PRO series of garden fountains.

A modern version of the most classic garden fountains, the PRO series encompasses years of experience in the field of design and sales that SINED has been carrying out for many years, in full compliance with its customers` requests.

Available in 5 different colours, white, black, red, dove grey and green, you can practically place them in any outdoor environment.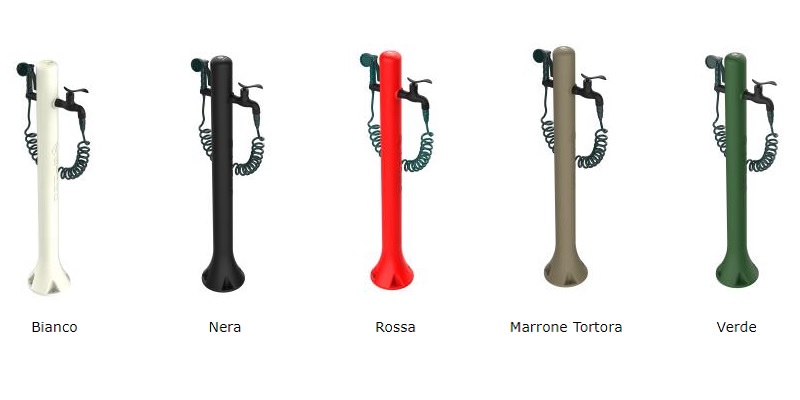 Different from all fountains on the market, they have special features that make them unique. Just look at the features listed below:
Main features
- Ideal for outdoor activities, gardens, apartment buildings, swimming pools, beaches, dog areas
- Height 100 cm
- Diameter 8 cm
- Black Matt metal alloy tap
- Predisposition for garden hose couplings
- 7.5 m outdoor hose
- Spray gun 8 different jets
- Metal support for garden hose
- Fixing plugs included
- Internal 15 Kgs metal braided hoses
- Side water inlet only
- Easily movable
- Easy and immediate installation
- Requires no special assembly skills
- Easily sanitised
- Fountain made of HDPE (high-strength polyethylene) resistant to UV rays, frost, limescale and salt.
- Suitable for all outdoor activities, also for marine environments.
- Ideal for garden irrigation or outdoor areas.
- Simple to set up, it adapts easily to many environments.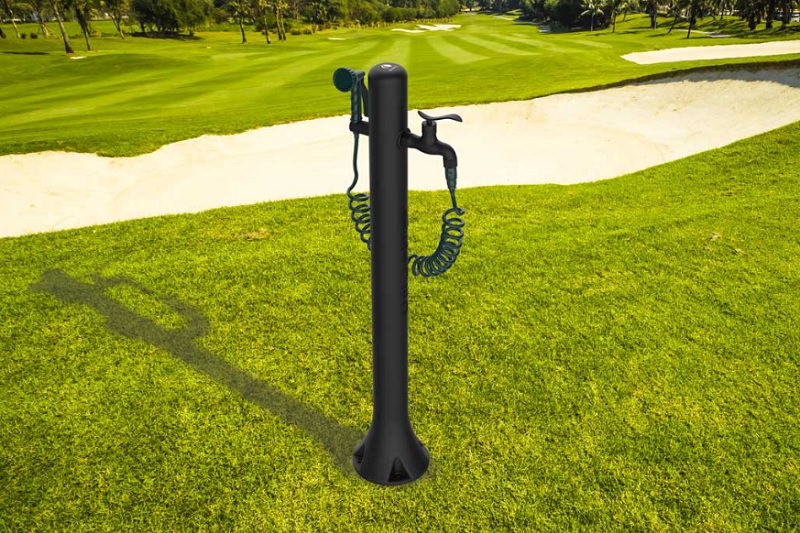 Some useful tips:
First start-up

Before connecting the water hose to the fountain, purge the pipes by running the water for at least 5 minutes to remove any debris that may be present.
minutes to remove any debris that may be in the pipes. Make sure that only clean water comes out
without residue.

Dismantling at the end of the season
During the winter period, the fountain must be COMPLETELY drained of the water it contains. In addition
during the winter the fountain must be dismantled and stored in a dry place.
Remove the fixing screws on the base and empty the remaining water from the bottom of the fountain by tilting it (absolutely necessary!).
Failure to observe this warning can lead to frost damage to the product.
Frost damage is not covered by warranty.

Cleaning
Use commercially available cleaning agents for cleaning. Do not use cleaning agents containing solvents,
abrasive cleaning agents or hard sponges, brushes, etc.


Warranty

The regulations in force in the European Community apply.



Easy assembly, see graphic tutorial below: