Sometimes you wonder why you should buy a shower for the garden, but also for the swimming pool, camping, bathing establishment, hotel, B&B and in general for all outdoor activities or even in the bathroom at home. Why should you spend a sum, even if not excessive, to buy them?
No one wants to "force" anyone to buy, but it costs nothing to read and consider, it only takes a few minutes of your precious time. Door-to-door sales have had their day in this fast-paced, always-on society.
So choices, and advice, are easier to find online. But be careful what and how you are offered.

This is it, they`re here! What will you say, the best outdoor showers you can find online. I don`t hesitate to tell you that they are the best, there`s no doubt that you won`t find the same one online, and if you do you can let us know without any problem. Let`s say that I challenge you to find the same!
Unique in price, accessories and value for money. All showers are individually pressure tested by immersion in a tub of water, after the test is dried, rechecked and carefully packaged with custom-made protection.

Why do I say this? All the showers are made according to specific Made in Italy specifications and are subject to constant control throughout the production process right up to final packaging and transport.

They are all made of strong HD polyethylene, which is highly resistant to UV rays, ideal for installation in marine environments, even windy ones. Lightweight and easy to assemble, they require minimal maintenance and, unlike solar heated showers, you don`t have to place them in the sun.

Just a few simple considerations that might convince you to buy them, or decide to do so, I forgot.....just connect them to your water and heating systems and you`re done:

Shower body
- Let`s start with the stainless steel shower head, generous in size and made with anti-limescale silicone nozzles.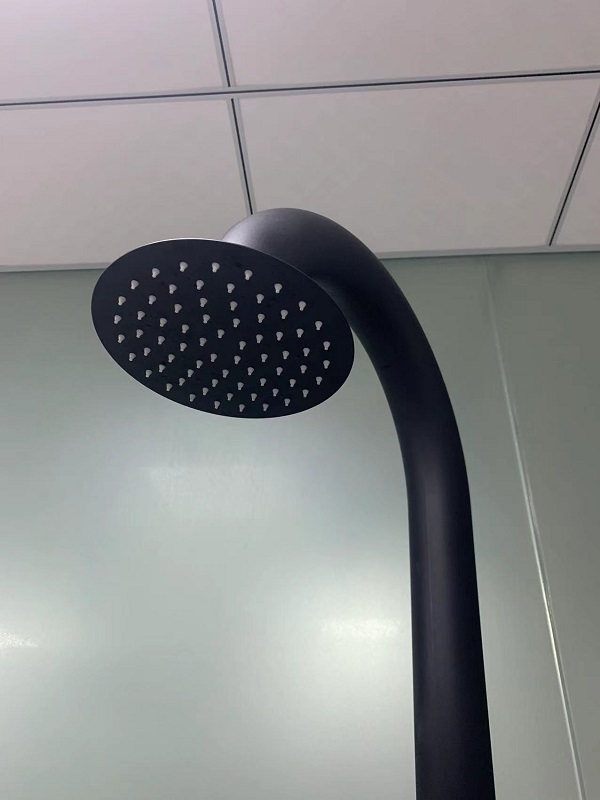 - Nice contrast between the accessories and the colour of the shower, see below the white version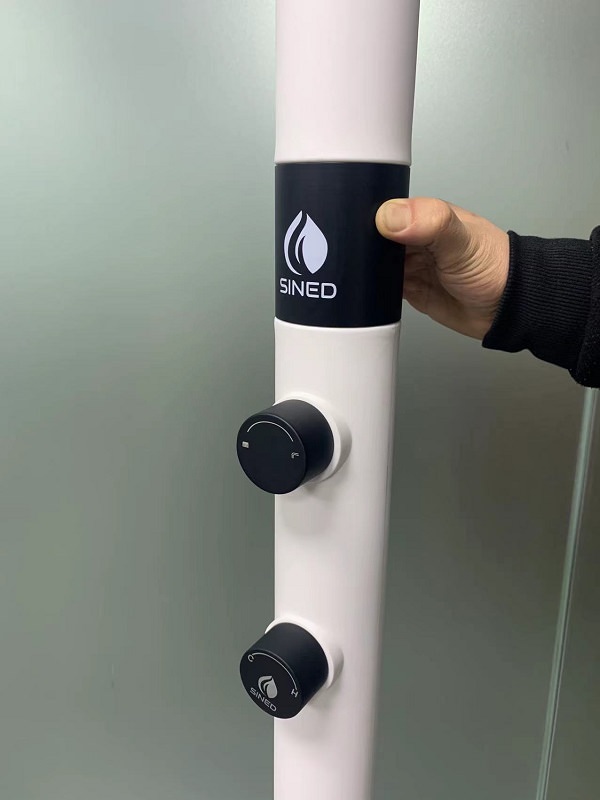 - Double inlet pipes: hot and cold water, both equipped with anti-limescale filter. All showers in the series have the double possibility of bottom and side connections. You won`t find any others like it!
You may not like the filters, even though they are absolutely useful. No problem! You can connect them directly to the beginning of the supply pipes and not directly to the shower body.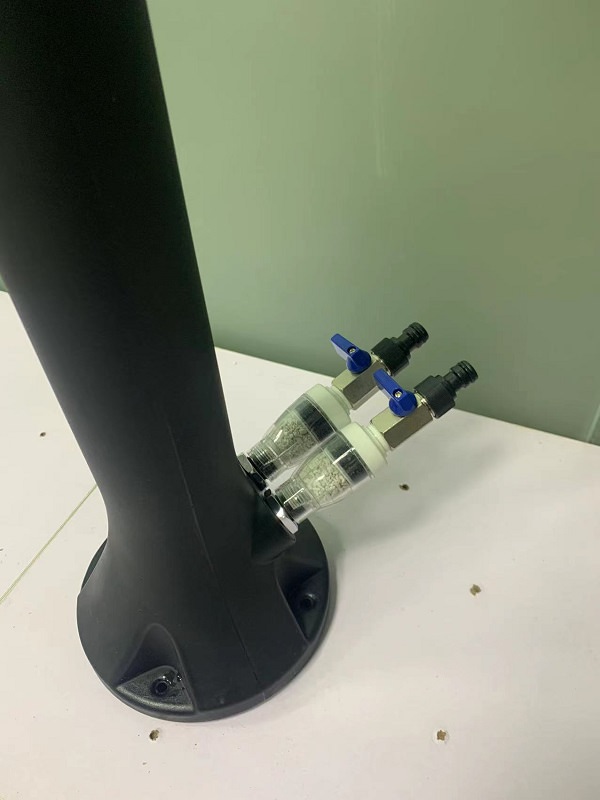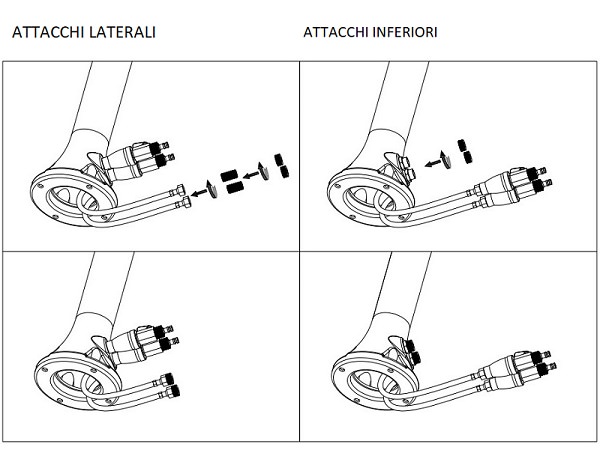 Difficile, se non impossibile, trovare in una doccia per esterno la doppia possibilità di allaccio alla rete idrica di casa sia inferiore che laterale. Molti dei nostri clienti avevano aespresso il desiderio di avere la seconda possibilità perchè non volevano fare altre tracce esterne, con evidenti maggiorazioni dei costi, sia nel giardino o esistente pavimentazione. Non potevamo non accontentarli!

Nella figura potrai notare le due differenze, se userai attacchi laterali potrai tappare quelli inferiori con i relativi tappi a corredo. Potrai fare l`inverso collegando la doccia con gli attacchi inferiori.

- Doppio Deviatore Acqua Calda e Fredda sia nel soffione che nel Lavapiedi, in questo modo potrai miscelare l`acqua fredda con la calda sia nel lavapiedi che ne doccino mobile (se presente)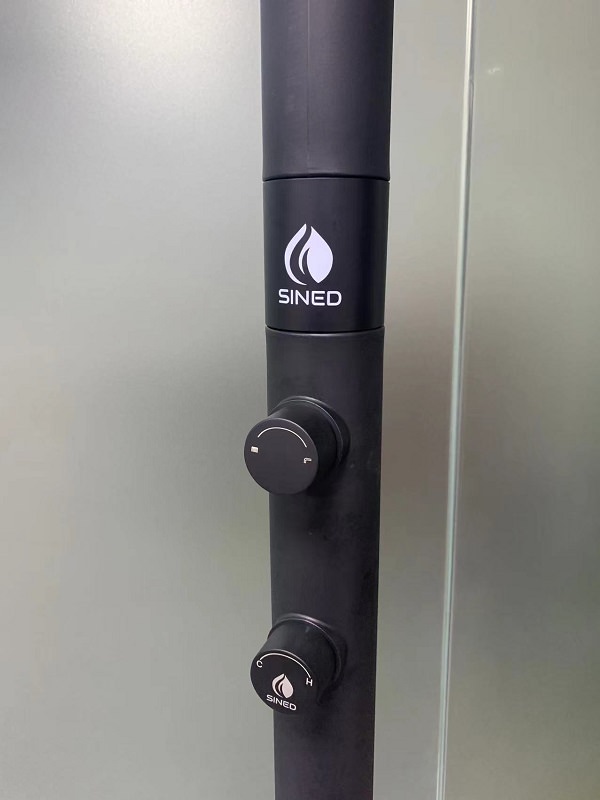 - Inlet filler tap, very useful for interrupting the water supply to the shower.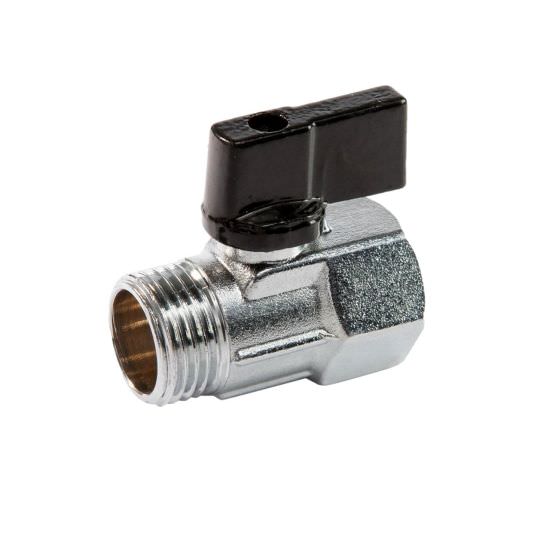 - Internal braid hoses with 15 Kgs of pressure, you won`t find any like it!

All showers in the sposs series can be equipped with the new overhead showers designed for maximum comfort. They do not need electricity to be operated, just the wave of a hand!
An example of this? See below.

Ma non è finita, se acquisti una delle docce della serie LUNA avrai GRATIS e sottolineo GRATIS sacca protettiva, in tessuto 190 cloth, per riporre il prodotto o come protezione, e il doppio filtro anticalcare per le rispettive entrate dell`acqua, sia fredda che calda.
Non piace di solito ricevere un pacco rotto o manomesso, questo non piace neanche a noi. Ogni eventuale lamentela per SINED docce è qualcosa di devastante, visto l`impegno e l`amore che da sempre mettiamo per soddisfare i nostri clienti. Abbiamo anche pensato, per ridurre eveventuali rotture dovute di solito dai corrieri, di imballare con la massima protezione tutte le nostre docce, tante parole non servono, guarda l`immagine.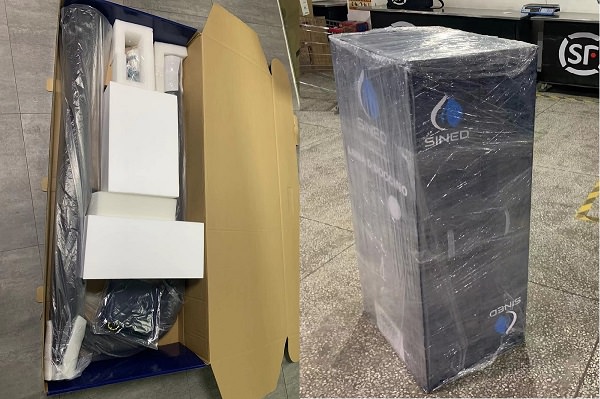 These are the main outstanding features:
- High-quality accessories.
- Easy to clean and maintain.
- Separate hot and cold water inlets.
- Possibility of side and bottom water inlets.
- Highly resistant to atmospheric agents.
- Highly resistant to UV rays.
- Can be mounted in the bathroom of your house or in outdoor spaces as garden furniture.
- For indoor and outdoor use
- Ideal for gardens, swimming pools, spas and wellness centres.
- Height 223.5 cm
- Base diameter 17.5 cm
- Dual inlet pipes: Hot and cold water
- Footwash tap or mobile hand shower
- Double hot and cold water diverter in both the shower head and the footwash unit
- Special Large Shower Heads Stainless Steel
- Shower heads with anti-limescale silicone nozzles
- Brass accessories
- Inlet filling tap
- Drain plug
- Fixing plugs supplied
- Fixing with special protective nylon bushings
- 2 Limescale filters (one for each inlet)
- High quality mixing cartridge
- Recommended water pressure 3.5 bar
- Internal braid hoses with 15 Kgs of pressure
- Protective bag, 190 cloth, for product storage


Thank you for getting this far, and I hope you find it helpful in at least clarifying the situation. I forgot to mention...... I gave my sister a black LUNA shower as a present and had it installed in her garden. She assured me this summer that she has used it constantly and without any problems.

All the technical improvements we have made to our outdoor showers are the result of twenty years of experience and, in particular, of direct advice from our customers.