Large solar showers with mixer and foot wash. Technologically advanced, typhinised in every part, economical and good value for money
Maximum comfort in a solar shower, it is difficult to find a solar shower foot washer and a solar shower mixer in a large capacity shower at the same time.
Large tank capacity, with its 40 litres it amply satisfies the need for hot showers all day long. Exclusive design and accessories in gunmetal black. The contrast between the colour of the shower and the accessories stands out. Made of PEHD, non-toxic high molecular density polyethylene, highly resistant to weather, UV rays and chemicals. Including robust cover and limescale filter.
Large swivelling shower head with anti-limescale nozzles. The jet of the solar shower head is much gentler than the jet of a conventional shower or tap, from the footwash only cold water.
Patented technology that allows the maximum amount of water to be heated by reducing the heating time of the water inside the tank. This allows the total utilisation of the water heated by the sun in the shower much quicker than with traditional `solar heated showers` and to deliver hot water for twice as long. Solar shower also designed for professional use with high workloads for beaches, spas and swimming pools open to the public.
In the models of the XXL Sole series you get all this and in an economical way too!
With a simple but sophisticated design, you can place the solar shower in any outdoor environment, but always in the sun, it will work better for your wallet too!
You will practically pay nothing to take a hot shower in the garden, for example!
But we have gone further, for showers equipped with a limescale filter, it can sometimes happen that it is inadvertently moved and the limescale filter attached directly to the water hose breaks.
Current connection.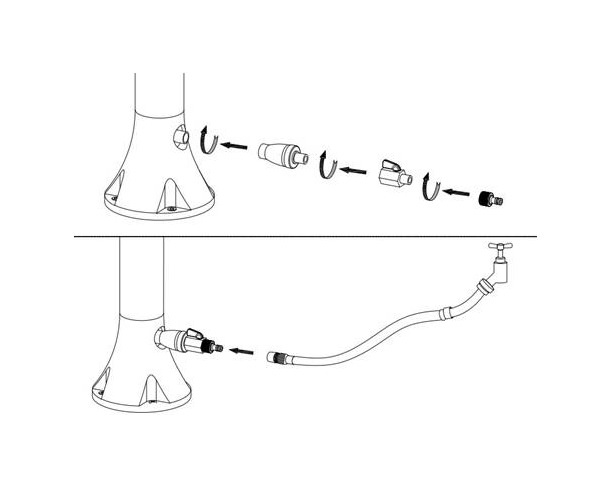 We have remedied this by creating an extension with a braided hose that avoids this probable, though rare, inconvenience.
It happened to me! And for the more ....distracted....as I am, we thought we could avoid the problem this way. With an extension of excellent braided hose that allows more play in the limescale filter.
Excellent, no?
Our timed solar shower can take advantage of special offers both AS BEST PRICE and QUANTITY clicks on the image below to find out how to